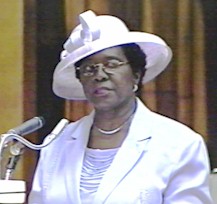 Her Excellency the Governor General Dame Pearlette Louisy
Friday, January 04, 2002 - The revival of the banana industry is being seen as a clear priority in government's attempts at sustaining the island's economic development programme. That's according to Governor General Her Excellency Dame Pearlette Louisy as she addressed a joint sitting of the St. Lucia House of Assembly and the Senate on Thursday, January 3, 2002.
Dame Louisy said in this regard the focus would be on meeting market quotas by ensuring the sustained supply of inputs to farmers, alongside technical and financial support to irrigate farmlands. The Banana Recovery Unit to be established early in this year will play a pivotal role in realizing that goal. Another clear priority will be strengthening the ability of St. Lucia's export sector - especially the Manufacturing and Service sectors - to compete internationally.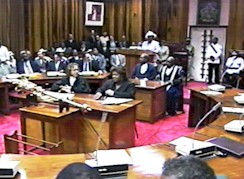 Joint sitting of the House of Assembly and the Senate in Session
According to governor general, "the emphasis here must be on helping our firms to acquire the necessary process technology. At the same time, we must ensure that our education sector supplies the workforce that these firms will need, to maintain their competitive edge in the marketplace of the future."
As the economic adjustments continue government says it intends to provide a social safety net for the more vulnerable segments of the workforce. The centerpiece of the safety net will be a programme of construction of highways, roads, bridges, schools and other public buildings.
Government also intends to expand the reach and impact of agencies like the Poverty Reduction Fund, the Small Enterprise Development Unit and the James Belgrave Fund, to assist fledging entrepreneurs.
related
Government to Focus on Social Infrastructure, Poverty Reduction and Education in First Part of 2002
Throne Speech Delivered by the Governor General on the Occasion of the Opening of the Eighth Parliament - January 3, 2002
see also
Members of the House of Assembly