Contact: Shannon Lebourne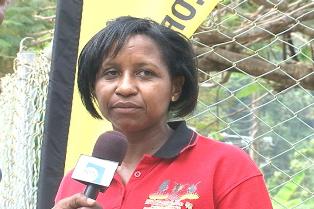 Wednesday 18 May 2011 – Students attending the Soufriere Primary and Infant Schools now have a more conducive environment to learn, as a result of a massive rehabilitation exercise undertaken by the "Do Something Saint Lucia" campaign.
The two schools were virtually out of bounds following the devastation of Hurricane Tomas, and although some rehabilitation work had been undertaken in the aftermath of the storm, school life had not returned to normalcy.
Principal of the Soufriere Infant School, Sandra Prosper, says the initiative is a great investment in the education of the nation's youth.
"Ever since the hurricane, our students had nowhere to play—they were in an enclosed area. Some of them did not want to come to classes because they could not exercise themselves and really get the gist of the lessons because of the environment. Now we have received a facelift, new tiles and practically a new school; when the students return to school they will be very happy and I am hoping that this will really impact on how they take in what is being taught to them."
Joined by some one hundred and fifteen US volunteers, over three hundred Saint Lucians –young and old—braved the scorching Saturday sun to ensure that the Soufriere students have better school facilities.
Soufriere Primary teacher Raymond Regis says this is the greatest level of voluntarism he has witnessed in his twenty years of service to the institution.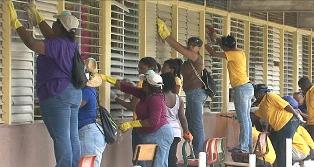 "For the past few years we have been lacking in voluntarism. When I was growing up as a boy we used to have this thing called "coudmain" where people came together to help each other –that has almost disappeared. This exercise by the Do something Saint Lucia team really brings hope and makes me believe that voluntarism is still alive in Saint Lucia."
Officials say the number of Saint Lucians who participated in the exercise is evidence that the spirit of voluntarism is still at the centre of the Saint Lucian society.
The "Do Something Saint Lucia" campaign's next mission will see hundreds of volunteers converge on the Boys Training Centre in Massade Gros Islet later this month to enhance the institution.