Contact: Rose Marie Harris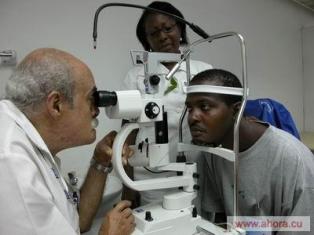 Tuesday 17 May 2011 – Saint Lucians and the entire world are being reminded that visual impairment does not translate to helplessness, uselessness, or complete absence of all potential or talent.
The reminder is coming from Saint Lucia's Governor General and Patron of the Saint Lucia Blind Welfare Association, Her Excellency Dame Pearlette Louisy, as the month of May is being observed as Blindness Awareness Month. Under the theme "Visually Impaired workers – Talent sees no boundaries", the Governor General is challenging the nation to create employment opportunities for persons who are visually challenged.
"I therefore strongly encourage the human resource managers and labour union personnel who will be approached by the Association to participate in the sensitization workshops which are being planned.
"It can be so easy to be tempted to put boundaries on the potential or abilities of persons with disabilities by arguing that they are not up to the task at hand. An appreciation of their abilities as well as empathy for the challenges that blind and visually impaired people face in coping with the most basic things in life will give employers and human resource managers a better understanding of their responsibility towards matching the talents, competencies, and abilities of the unsighted with opportunities or positions within their organizations."
The right to work is enshrined in The Universal Declaration of Human Rights Article 23(1) which reads: "Everyone has the right to work, to free choice of employment, to just and favourable conditions of work and to protection against unemployment."
The creation of employment for the visually impaired is just one of the goals set by the Saint Lucia Blind Welfare Association for 2011. The Association is also seeking to promote eye health among workers in the country by carrying out sensitization sessions and vision assessments with various labour unions and organizations.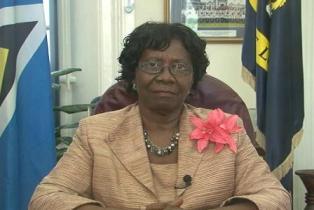 "Through its persistent advocacy, it has been successful in its mission to have the Ministry of Health declare eye health as one of twelve national health priorities. The eye health priorities themselves are cataract, glaucoma, refraction error, low vision and childhood blindness. While the eye health programme has been on-going for many years" Her Excellency said, "the Association in keeping with this year's theme is undertaking to bring the message to the workers of the country in their workplace environment, so that all can be apprised of the nature and extent of the interventions aimed at addressing the eye health needs of Saint Lucia and the Vision 2020 mission of eliminating all forms of avoidable blindness by the year 2020.