Contact: Shannon Lebourne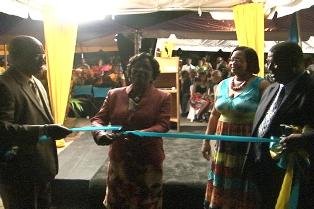 Tuesday 17 May 2011 – Saint Lucia continues to create an enabling environment for growth in the Tourism Industry and more importantly for social development of all citizens with the formal opening of Serenity Park in Sans Soucis.

The brainchild of Castries Central MP and Minister responsible for Urban Renewal Honourable Richard Frederick, Serenity Park boasts all amenities of a modern recreational park.
Speaking at the opening ceremony Minister Frederick explained the idea for the park was born out of a vision to enhance the look and feel of the country`s capital city.
"For many years the entrance of our city landscape from the north has been silently clamouring and yearning for attention that demands an image and attraction that visibly announces a welcome befitting of a city to its citizens and visitors alike."
Serenity Park was wholly constructed by locals and will be managed by a committee comprising two members of the Sans Souci Community where it s geographically located..
Minister Frederick says he is very happy that the project was completed on time and within budget.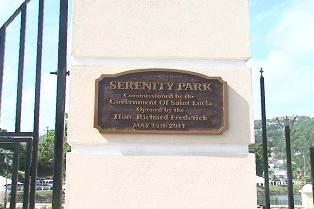 "Whilst the park enjoys a prominent location, it should be noted that it is not the Sans Souci park or the Castries park but it is a monument and gift to the people of Saint Lucia from my humble inspiration and perseverance and the formidable skills and talents of our construction team."
Serenity Park was formally opened by Governor General Her Excellency Dame Pearlette Louisy on Sunday May 15, 2011.
The facility was constructed at a cost of $EC1.8 million.