Contact: Claudia Monlouis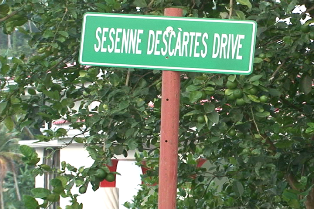 Monday 28 March 2011 – Saint Lucia 's Minister for Education and Culture, Honourable Arsene, James has asserted that the re-naming of a part of the Patience community commonly referred to as Vietnam to Konmin Sesenne, and the naming of a road within that community to the Sesenne Descartes Drive demonstrates the will of the government and people of Saint Lucia to accord adequate recognition and tribute to the work and name of Dame Marie Selipha Sesenne Descartes.
The minister noted the timely fashion in which the renaming tribute took place, one day before the birthday of the late Queen of Culture who was born on March 28, 1913. "If Sesenne were alive, she would be celebrating her 97th birthday. However, we are all gathered here today to proclaim her legacy and to immortalize her name and work. Through the historic actions we will take today, we will ensure that the memory and legacy of our queen of culture lives on in perpetuity beyond her mortal existence."
Community member and cultural activist Miss Marilyn Gaston, says the community of Mon Repos and Micoud by extension would like the entire nation to join them in hailing this momentous occasion.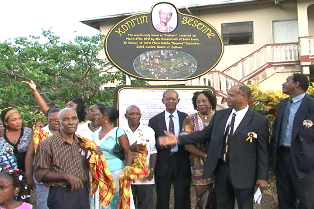 "Today marks a memorable occasion in our history that no one will forget. This sign erected here—I can assure you I know my people—has brought pride to this community. Sesenne brought light to the nation of Saint Lucia and worldwide to see who we are. We will perpetuate Sesenne's works – the youth and all of us will carry it on."
Now the very road Dame Sesenne traversed many times during her life, and which also led to her final resting place, is named in her honour.