Contact: Shannon Lebourne
Tuesday 06th December 2011 – The executive arm of government which will manage the affairs of Saint Lucia for the next five years, or until which time the Prime Minister deems necessary, has been confirmed with the appointment of the new Cabinet of ministers.
The ministerial portfolios were confirmed at a swearing-in ceremony at Parliament on Tuesday, December 6, 2011.
Honourable Dr. Robert Lewis has been given the responsibility for the Ministry of Education, Human Resource Development, and Labour.
Honourable Alvina Reynolds has been appointed Minister for Health, Wellness, Human Services and Gender Relations.
The Ministry of External Affairs, International Trade, and Civil Aviation will be headed by Honourable Alva Baptiste.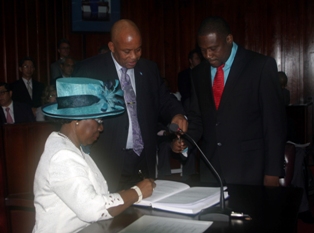 The Prime Minister appointed Honourable Harold Dalson as the Minister for Social Transformation, Local Government, and Community Empowerment.
Honourable Emma Hippolyte has been given the portfolios for Commerce, Business Development, and Consumer Affairs, while Senator the Honourable Dr. Ubaldus Raymond will serve as Parliamentary Secretary or Junior Minister in the Ministry of Commerce, Business Development, and Consumer Affairs.
Honourable Moses Jn Baptiste was sworn in as the Minister for Agriculture, Food Production, Fisheries, and Rural Development.
The Ministry of Tourism, Heritage, and the Creative Industries will be administered by Honourable Lorne Theophilus.
Former Saint Lucia and Windward Island cricketer, Honourable Shawn Edward, is the Minister for Youth Development, and Sports.
Three senators have also been awarded ministerial portfolios.
Senator the Honourable Victor Phillip La Corbiniere was sworn is as the Minister for Legal Affairs, Home Affairs, and National Security.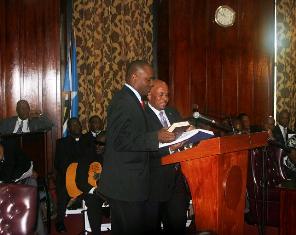 Former Cabinet Secretary, now Senator, the Honourable Dr. James Fletcher, will oversee the Ministry of the Public Service, Sustainable Development, Energy, Science and Technology.
Senator the Honourable Stanley Felix holds the position of Minister for Physical Development, Housing, and Urban Renewal.
As was previously announced Honourable Philip J Pierre is the Deputy Prime Minister and Minister for Infrastructure, Port Services, and Transport.
For his part, Prime Minister Honourable Dr. Kenny D Anthony assumes the portfolios for Finance and Economic Affairs, Planning, and Social Security.
The Cabinet consists of fourteen members—two women and twelve men.
The prime minister said the position of attorney general will be announced shortly. He underscored that the said position will fall within the realms of the public service, so as to subtract from it any party political inclinations.