Contact: Sherlana Ernest
Thursday August 4, 2011 – The government of the Republic of China (Taiwan) has again displayed an eagerness and willingness to assist the young people of Saint Lucia. Earlier this week, the "2011 Taiwan Saint Lucia Youth Ambassador Programme" was launched. The programmer seeks to engage a number of young persons in activities, which can serve to improve themselves and improve their capacities in various spheres.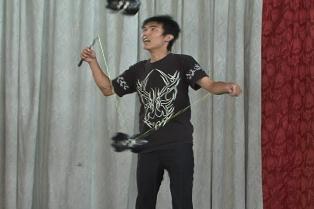 Minister responsible for Youth and Sports Honourable Lenard Montoute expressed his gratitude for such an initiative. "The Taiwanese Ambassadors, I am sure, will have a wonderful experience in Saint Lucia. Getting to know what is similar, first of all, and at the same time experiencing the differences in Saint Lucia and Taiwan. Likewise, I expect the youth ambassadors of Saint Lucia, to be true ambassadors of Saint Lucia, and represent us well, in reflecting the very best of Saint Lucia, and at the same time teaching your counterparts a few things about our culture, our natural beauty, our heritage and many of the traditions in Saint Lucia."
Ambassador of the Republic of China Taiwan, His Excellency, Tom Chou described the programme as one of promoting mutual understanding and strengthen relations between the people of Saint Lucia and Taiwan. " During the period of time not only the seven youth ambassadors will teach the local Saint Lucian students, about Taiwanese cultures, including the songs, and Chinese calligraphy, Dance, Chinese cuisine, a lot of interesting things. As well as, those youth ambassadors would also like to learn some Saint Lucian culture; folk songs, dance and even the steel pan," Ambassador Chou explained.
The 2011 Youth Ambassador Program Culture Camp is scheduled to run for two weeks in August. The Taiwanese Youth Ambassadors includes one University Professor and seven Catholic University Students. Students of all ages and representing various communities on the island have been chosen as participants.