Contact: Shannon Le Bourne
Wednesday, August 03, 2011 – Preliminary assessments indicate that Saint Lucia was not severely impacted by inclement weather associated with Tropical Storm Emily which moved across the Lesser Antilles over a three day period.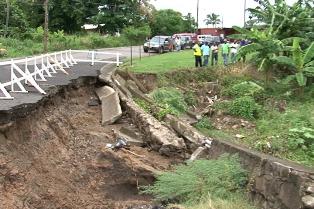 There were reports of flooding and land slippages in some areas while homes and personal properties received some damage.
Chairman of the National Emergency Management Advisory Council NEMAC Prime Minister Honourable Stephenson King says government is grateful that the damage was not worse. "I must indicate that we have been spared considering what we experienced with the rains leading up to Hurricane Tomas and the level of devastation we experienced for Hurricane Tomas. I must admit that Saint Lucia has been speared and I must praise God for having speared us on this occasion. We are satisfied that the preparatory work that we did for this Hurricane Season has certainly helped."
With a little less than three months before the end of the 2011 Atlantic Hurricane Season, the Prime Minister says government will continue to invest in desilting major rivers around the island to limit the possibility of flooding should Saint Lucia be affected by more rain.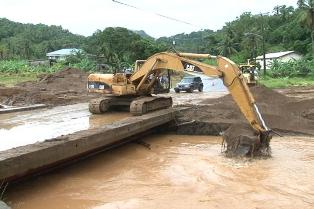 But the Prime Minister explains that there are some challenges with the Desilting Programme."Throughout the island work has been undertaken as a continuous programme of desilting the rivers because what has happened since Hurricane Tomas is that the upper reaches of the hills have been saturated with water and there is a bit of dislodgement of the soil structure and so whenever it rains quite a bit of soil comes down and a lot of siltation takes place and no matter how much desilting that we undertake we recognise a continuous accumulation of silt overtime," Prime Minister King explained.
Since the passage of Hurricane Tomas government has expended over $25EC million on desilting a number of rivers around the island. The Prime Minister says the National Emergency Management Organisation NEMO and the Met Services as well as other major stakeholders will continue to fine-tune its preparations as the 2011 Atlantic Hurricane Season roars on.