Contact: Bynta Ernest
Tuesday August 9th, 2011 – 'Behind the Everyday Benefits of Life" is the slogan chosen to guide Saint Lucia Air and Seaports Authority corporate campaign which was unveiled recently.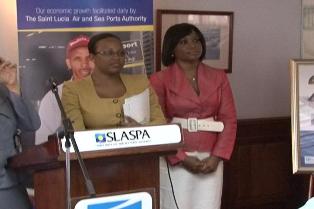 SLAPSPA's Marketing Manager, Dona Regis, explained that the purpose of the campaign is to increase awareness of SLASPA's role in various aspects of public life, "If we stop for a moment and think about our daily lives, we think about our morning cup of coffee or tea, we think about the clothing we're wearing today, we think about the vehicle that we drove, if you think for a moment, the Port Authority had a role to play in it. And it's against this backdrop we formed the inspiration for this campaign"
The campaign comprises radio and television commercials, in addition to print advertisements in the form of posters and billboards.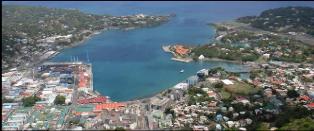 The award winning marketing company, ACCELLA Marketing is responsible for the development and execution of the campaign. "In terms of the campaign trying to execute something which we know speaks of SLASPA but as well resonates with the local audience. We are Saint Lucians so we know what can work and what should work for the St. Lucian psyche. SLASPA is seen as a corporate organization that focuses on export and import and that connection to the local person and to individuals is not very overt. The campaign is to focus on how SLASPA impacts on us everyday," the Director of ACCELLA Marketing Agnes Francis explained
The campaign is currently being aired on television and radio.