Contact: Bynta Ernest
Thursday August 11th, 2011 – The community of La Haut in the Western town of Soufriere, has been impacted by a major landslide as a result of the inclement weather experienced on the island this past Monday and Tuesday.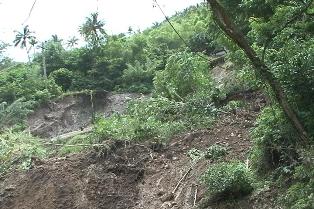 Chief Engineer in the Ministry of Communications and Works Lester Arnold explains that the soil type in the area in addition to the heavy rains contributed to the magnitude of the current land slippage.
"The slide occurred in an area that was previously disturbed after Hurricane Tomas. We had a smaller landslide in comparison to this one. However we went in and cleared the area and we stabilized the site in question. However, because of the soil type of the area where it is more of a volcanic ash type of material, once you have excessive rains that material can become saturated easily and that is what happened between Monday and Tuesday with the heavy rains that we experienced."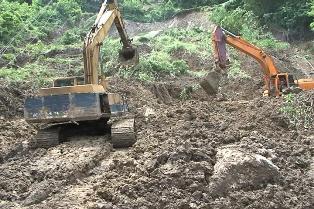 Due to the severity of the landslide, Arnold said currently the road is closed to the motoring public. However, Arnold is assuring the public that the crew is working feverishly to return the affected area to a state of normalcy to the community. "Due to the nature of the slide, it is difficult to say exactly when the road would be open to the motoring public. The Ministry is doing its best to have vehicular traffic restored in the shortest space of time," Arnold explained.