Contact: Shannon Lebourne
Thursday, August 11, 2011 – The Gryngerg Affair came under further discussion on Thursday when Saint Lucia's Prime Minister Honourable Stephenson King hosted a press conference.
At the press briefing Prime Minister King was joined by the island's Attorney General Honourable Lozenzo Rudolph Francis and legal Luminary Brian King from the International Law Firm Freshfiels Bruckhaus Deringer which is presently advising the Government of Saint Lucia.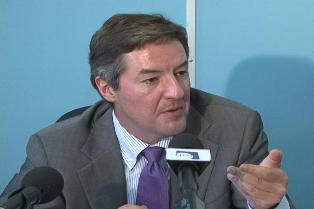 Even before the Prime Minister made his official statement he disclosed that more international investors in the energy field have recently expressed interest in Saint Lucia.
"Infact the commencement of this press conference was impeded by a delegation of French Investors who are also interested in the Energy Business and they met with me prior to this press conference to discuss a range of areas for energy development for the benefit of the people of Saint Lucia. At this time as we speak there are numerous people around the world with all forms of technologies that they want to sell to governments, we cannot in our endeavour and our enthusiasm to move into renewal enegery simply lease out all of our resources to one individual, the best way of doing this is by going out and engaging some competitive bidding process that we can allow to be scrutinised, analysed and considered before people are allowed to explore whether for oil, gas or for whatever recourse as the case may be," Prime Minister King explained.
The Prime Minister told the press briefing that in May 2007, representatives from a Norwegian Company met with officials of the office of Sustainable Development to propose the execution of a seismic exploration survey in Saint Lucia at no cost to the Government.

Further the Ministry of External Affairs, International Trade and Investment was consulted and joint discussions were held with the company. Subsequent to this meeting it was determined that the Ministry of Agriculture and Fisheries and other necessary stakeholders should also be consulted.
The Norwegian company had successfully completed a similar survey in Barbados in 2006 with the result that one year later, Barbados in June 2007 announced its first licensing round to international oil and gas companies. The period proposed for the Saint Lucian survey was eighteen (18 ) months – the same as Barbados.
Prime Minister King noted that during preparatory work from a local standpoint the government of Saint Lucia decided to ascertain the status of an agreement that Saint Lucia was said to have entered in with one Jack Grynberg before committing to the Norwegian Company.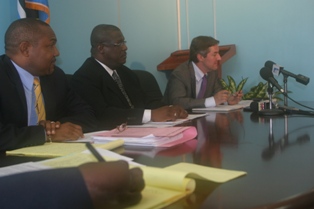 According to the Prime Minister Saint Lucia is loosing out on enormous opportunities for job creation and economic prosperity as a result of the agreement with Mr Jack Grynberg. "The potential is enormous, for the Norwegian from our own due diligence which certainly is a reputable company. They could have come in and done exploration and be able to indicate to the government of Saint Lucia the true potential of our sea bed in terms of the availability of oil, gas etc,once that was was confirmed it would mean that we could have moved into the next stage of development and am speaking from a positive standpoint that we would be able to develop the energy industry which would mean the potential for job training and for preparing our young people to go to University to acquire the necessary training in petro chemical, science etc so the potential is enormous but the negative side to this is that the sea bed has been placed in the hands of one gentleman who has a reputation and that has certainly put a few potential positive investors on hold and the danger is that Saint Lucia is loosing out because of this situation."
The Prime Minister says the government of Saint Lucia remains committed to progressing efforts to identify potential offshore petroleum resources, through a competitive process with responsible partners.