Contact: Shannon Lebourne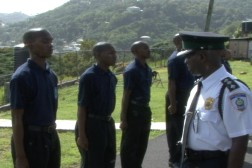 Recruits being inspected by senior officer
Monday, October 12, 2009 – The Ministry of Home Affairs and National Security despatched forty new recruits to take up duty at the Bordelais Correctional Facility on Monday morning.
The recruits who have been undergoing training over the past two months are expected to work alongside senior officers within the prison, to maintain a high level of security at the facility.
Home Affairs and National Security Minister Senator Honourable Guy Mayers called on the officers to execute their duties with the highest level of discipline and professionalism.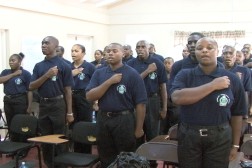 Recruits reciting the pledge of office ahead of their deployment at Bordelais
"Like in any organisation, the majority of officers are professional and they conduct themselves well, but amongst them are some officers who are not professional and they will pose a challenge to you. Let me says to you do not allow yourselves to be disturbed or distracted by theses officers, who will not serve your best interest. Instead, I ask you to follow the example of the good officers who have made securing Bordelais their a key agenda, and they are there everyday to protect and serve," Mr. Mayers added.
The Home Affairs and National Security Minister also reaffirmed government's commitment to maintaining security and law and order at the Bordelais Correctional Facility. Senator Mayers said despite the unexpected turn of events at the prison, securing the institution remains government's top priority.

"The fact that most of the officers who were away on sick leave are back at work today does not mean that we are going to let down our guard. This is a high security prison and we have to ensure that security is maintained at all times. This is our number one priority, and we will do whatever we have to do to maintain security at the prison," he said.
Senator Mayers said government does not want to take any chances going forward hence it will continue to implement proactive measures. Following two weeks of hands-on training at the Bordelais Correctional Facility, the performance of the forty recruits will be assessed to determine their future.