Contact: Claudia Monlouis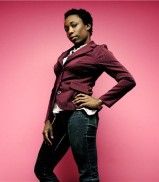 Davina Lee
Wednesday, November 4, 2009 – The United Nations Industrial Development Organization -UNIDO and the Cinematic & Entrepreneurship Motivation Awards (CEMA) and other Caribbean partners including the OECS and CARICOM have successfully put together a dream team of Caribbean film-makers.
The film makers, according to organizers, are outstanding Caribbean talents who possess the potential to break new ground for the fledging film industry in the region.
Among the group of film-makers selected from the region, Saint Lucia is being represented by Video Producer, Davina Lee. She described the experience of mingling with other Caribbean film makers as enriching.
"So they (CEMA), sent out a call for proposals to countries in the CARIFORUM region and out of those entries they received the chosen seven projects. There were only two projects chosen from the OECS – Saint Lucia, and the other being from Dominica"
Lee said the objective of the UNIDO/CEMA project is to promote these films internationally on their release at various world film festivals, thereby carving for the region, a place in film alongside the rest of the world.
"From the 25th of September, we were there for about a week in Barbados and the UNIDO Cinematic and Entrepreneurship Motivation Awards (CEMA), has been extended to 9th of June, 2010."
The film that the Saint Lucian team will be producing is entitled "Coming of Org" which was originally a short story written by John Robert Lee.
Production of the film will begin in January of 2010. Lee says, at the moment, she is busy seeking sponsorship in support of the project.