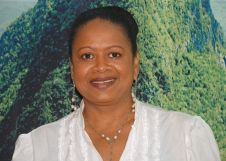 Dr. June Soomer, St. Lucia's Ambassador Extraordinary and Plenipotentiary
Tuesday, July 28, 2009 – NEW YORK (July 28, 2009) - The Office of St. Lucia's Prime Minister is encouraging St. Lucians in the Diaspora to become more involved in the development of their 30 year-old nation.

Dr. June Soomer, St. Lucia's Ambassador Extraordinary and Plenipotentiary with responsibility for the OECS, CARICOM and Diaspora Affairs, is calling on nationals - both young and old - to participate in a town hall-style forum at Brooklyn's Borough Hall (209 Joralemon Street) on Thursday, August 6 from 6 p.m. to 9 p.m.

Speaking at the St. Lucia Consulate and Mission to the United Nations this week while in transit from Taiwan to St. Lucia, Ambassador Soomer announced the Diaspora Road Show begins this weekend in London and will feature a country team representing the National Development Bank, the National Development Corporation, the Ministry of Finance, and the Office of the Prime Minister. The show then travels to Ottawa and Toronto in Canada as well as several cities in the United States, including New York, Washington DC, Atlanta, Texas and Miami.

"We want people to come out in numbers to hear about the opportunities that are available in their country," said Ambassador Soomer who believes overseas-based St. Lucians are not fully aware of investment and small business opportunities on the island, the availability of government bonds, and the advantages of being part of the OECS Economic Union to be launched next year.

The Caribbean envoy also said under discussion at the meetings will be "Homecoming 2010" which she hopes will solidify bonds between St. Lucians at home and abroad. "We are hoping that over the next year individuals, groups and associations will recognise the value of celebrating themselves as St. Lucians," said Dr. Soomer, who said nationals will congregate next summer in St. Lucia under the theme "Tout Sent Lisi Se Yonn" (All St. Lucians Are One.)

As part of the homecoming celebrations, Ambassador Soomer anticipates a stimulating youth summit as well as the launch of an official St. Lucia policy for the Diaspora. "We will be developing a draft over the next year starting with the Road Show. We will have a final copy to be signed at the 2010 reunion so that in the future everybody will be guided by a policy that has been developed by all St. Lucians."

Sarah Flood-Beaubrun, St. Lucia's Minister-Counsellor at the United Nations Mission, said the Road Show was an important initiative for the island's 30th anniversary year. "We have much to celebrate - we think of the St. Lucia Jazz festival ranked as one of the top five in the world, of Darren Sammy's achievements in West Indies cricket, a successful Organisation of Eastern Caribbean States with its single currency which was a precursor to the Euro - and the leadership role St. Lucia has played in several regional organizations as well as our two outstanding Nobel laureates Sir Arthur Lewis and Hon. Derek Walcott," said Flood-Beaubrun.

"Let us now build on our successes by mobilising ourselves in the Diaspora wherever we may reside for a better and brighter St. Lucia," she added.

St. Lucians attending next Thursday's event in New York will have a chance to win complimentary hotel stays in St. Lucia.
Contact: Bevan Springer | P.O. Box 354 | Sea Cliff | NY | 11579