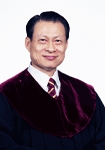 Lai, In–Jaw
Wednesday, February 18, 2009 – President Ma, Ying-jeou of the Republic of China (Taiwan) has appointed Lai, In–Jaw, President of Judicial Yuan and Chief Justice, as his Special Envoy to lead a delegation of six members to visit Saint Lucia for the 30th anniversary of independence celebrations. Lai assumed the highest rank in the Judicial Branch of the R.O.C. (Taiwan) in October, 2007. Mr. Hou, Ching-shan, Vice Minister of Foreign Affairs is on the list of the delegation together with four other officials both from the Judicial Yuan and the Ministry of Foreign Affairs. They are scheduled to arrive in Saint Lucia on Friday, 20th February and depart on Monday, 23rd February.

The Special Envoy and his delegation will be accompanied by Ambassador Tom Chou to pay a courtesy call on Honourable Stephenson King, Prime Minister, to present the congratulatory letter from President Ma of R.O.C. (Taiwan). To share the joy and glory of 30th independence anniversary with the government and people of Saint Lucia, they will also attend Independence Eve and Independence Day Celebrations at Beausejour Cricket Grounds, in addition to the Reception at the Prime Minister's Official Residence.

The new Psychiatric Hospital, the Union Farm and the National ICT Center are some of the projects the Special Envoy and his delegation will be interested in viewing during their 4-day visit to Saint Lucia.

This is the highest ranking official visit by the Taiwanese Government to Saint Lucia since the new government came into office in May, 2008. Saint Lucia and R.O.C. (Taiwan) have maintained a very close cooperative relationship since the resumption of diplomatic ties on 30th April, 2007. Saint Lucia has been a staunch supporter of Taiwan's bid for access to the United Nations and the World Health Organization.

Curriculum Vitae
Current Position:
President, Judicial Yuan and Chief Justice 2007.10 - present
Educational Background:
LL.B., National Chung Hsing University

LL.M., National Taiwan University

LL.M., Harvard University

S.J.D., Harvard University
Career:
Director, Graduate School of Laws, National Chung Hsing University 1982-1984

Director-General, Customs Department, Ministry of Finance 1984.08-1989.06

Administrative Vice Minister, Ministry of Finance 1989.06-1989.09

Deputy Minister, Minister of Finance 1989.09-1993.03.

Commissioner, Department of Finance, Taiwan Provincial Government 1993.03-1996.07

Lieutenant Governor, Taiwan Provincial Government 1996.07-1998.07

Advisor, Taiwan Provincial Government 1999.02-2000.10

Chief Justice, Judiciary Yuan 1999.01-2000.10

Vice Premier, Executive Yuan 2000.10-2002.02