Contact: Bevan Springer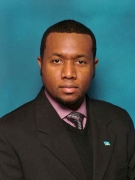 Consul General
Stephen Julien
Thursday, 19 February 2009 - The Saint Lucian flag will be hoisted at Toronto's City Hall on the 19th day of February 2009 to celebrate the West Indian island's 30th Anniversary of Independence.
Announcing this year's Independence activities, Stephen C.J. Julien - who was recently appointed to the post of Consul General said the national celebration serves as an opportunity to "re-energize the Diaspora," especially the young people of Saint Lucia to play a greater role in national consultation and development.
"It is our office's mission that our youth living in the Greater Toronto Area and across the length and breadth of this diverse nation learn about their country of origin, visit their country, and make a contribution to Saint Lucia whether they are immigrants, first or second generation Saint Lucians," said the envoy, who added that "leveraging the talents of the Diaspora" was also a top priority.
The island's Consul General said that he looked forward to becoming acquainted with more Saint Lucians throughout the Independence celebrations as his office's mission is to represent the interests of both the island as well as nationals who live in the Greater Toronto Area. "This I will continue to do fervently over the course of my mission here," said Mr. Julien, who also sees the Consulate as part of the "country team" approach to promoting tourism and investment on the island.
The 2009 Independence activities in the Toronto area follow :
Thursday 19 February 2009: 12 noon - Flag Raising ceremony at The City Hall of Toronto followed by a press conference
Sunday 22 February 2009: 4 p.m. - Thanksgiving Church Service & Reception at Prince of Peace Church, 265 Alton Towers Circle, Scarborough (McCowan & Finch)
Saturday 7 March 2009: 6 p.m. - "A Beautiful Struggle" Youth Event, at El Cervejaria Restaurant, 842 College Street, Toronto
Saturday 28 March 2009: 6 p.m. - St. Lucia-Toronto Association Dinner & Dance Gala at Ella's Banquet Hall, 35 Danforth Road, Scarborough. Contact: Delores Watson + 1 416 317 8630
Saturday 4 April 2009: 7 p.m. "A Night of Kings" at La Villa, 114 Toryork Drive, Toronto, M9L 1X6 Contact: Ross Cadasse + 1 416 907 4992