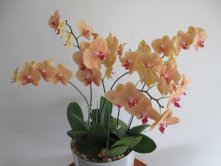 The Phalaenopsis Flower
Wednesday, February 4, 2009 – The Ministry of Agriculture, Lands, Fisheries and Forestry and the Embassy of the Republic of China (Taiwan) are scheduled to co-host a debut display of various species of orchid of different colors like Phalaenopsis, Dendrobium, Cattleya Oncidium(Dancing Lady), Vanda and Paphiopedilum (Lady's Slipper), etc., which are not only suitable for the Caribbean climate, but also most promising floriculture in Saint Lucia. The display is scheduled to take place at 10:00 am on Monday, 9th February when a ceremony will be arranged at the Union Propagation Center to officially launch the display.
H. E. Dame Pearlette Louisy, the Governor-General and Honourable Stephenson King, the Prime Minister, Speaker of the House of Assembly, President of the Senate, among others, have been invited to honour this event. It is another major initiative that officials from both the Governments of Saint Lucia and the Republic of China (Taiwan) have identified as one of the core projects in terms of Agricultural Technical Cooperation between the two countries.
In addition, the nearly completed Tissue Culture Laboratory will play an essential role to propagate large quantities of high quality plantlets and seedlings of orchid and other economic produce with identical trait and standard. In the first stage, five thousands plants of orchid have already been imported from Taiwan for the purpose of testing their suitability and viability in the ecological system of Saint Lucia, and furthermore, to explore the market potential in the entire Caribbean region. Officials from both countries will assume the responsibility of helping local florists and farmers develop an orchid industry and an export-oriented marketing strategy with an aim to supply local and overseas market demand.
Gifted with rich biological resources, Taiwan is blessed with one of the world's most important venues for orchid growing. Taiwan is now the world's largest orchid exporter. In the past two years, Phalaenopsis, which is more commonly called the "Butterfly Orchid", had a breakthrough in sales of 80 million strains, the highest in Taiwan flower exports and ranked the first among other seedling exports worldwide, earning over EC$100 million foreign exchange for Taiwan each year. Therefore, it is called the golden flower industry. In the international orchid market, Taiwan seizes 50 plus percent of Phalaenopsis plants and seed sources, besides 40% of the core production technology, which means that one out of two Phalaenopsis sold on world market is "Made in Taiwan"; that is why Taiwan has earned the title of the "Kingdom of Butterfly Orchid".
Phalaenopsis production cycle in Taiwan is highly specialized for, at different stages in the cycle, plants are taken care of by specialized farmers or companies to give production a uniform standard. The use of automatically controlled greenhouse system can ensure the most suitable micro-environment for the optimal growth of Phalaenopsis. At present, Taiwan's orchid industry is focus in the technological production, breeding, research and development, and disease prevention. The establishment of Taiwan Orchid Plantation (TOP) in Tainan County combines industrial basis and biological science and technology talent. TOP is a 200-hectare biotech science park in Tainan devoted to orchid R&D and production. Investors can rent greenhouses or lease land to build their own facilities in the park, which is scheduled for completion in 2009. It organizes orchid productions, breeding, trading, exhibitions, research and development, the promotion of multi-functional orchid plantation. TOP plans to integrate the current floral production areas with the surrounding tourism and leisure resources.
By utilizing the strengths of orchid industry potential and know-how sharing through technical cooperation between Saint Lucia and Taiwan, it is generally believed that orchid industry will soon be developed into a most profitable and competitive sector in Saint Lucia as well.