Contact: Julita Peter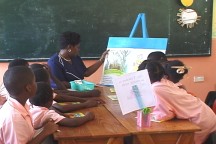 Students listening intently to their teacher
Monday, August 31, 2009 – As thousands of students return to the classroom Tuesday after the annual summer vacation, Education Minister Honourable Arsene James says the ministry has made it its business to ensure a smooth re-opening.
He says following a meeting with all Education Officers and other relevant personnel to review the plan for the new school year, the ministry is satisfied that all is in place.
"We have had discussion with our bus drivers. We had a meeting with them two Sundays ago, to discuss transportation subsidy and to ensure all is well for the transportation of students to secondary school. The welfare officer has also delivered in terms of book rental scheme, in terms of the feeding programme. She is ensuring that will be well taken care of," said the Education and Culture Minister.
Students of the Bexon Combined School; however, are being housed temporarily at the Bexon Infant School. The Bexon Combined School, which was affected by a 2008 earthquake, is currently under renovation.
The Ministry of Education will also be fully activating its H1N1 influenza sensitization.