Contact: Frank Girard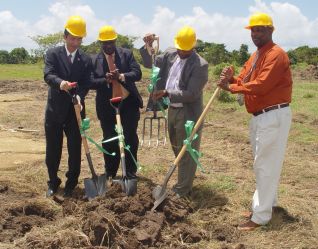 Sod Turning Ceremony - Left to Right, Ambassador Tom Chou, Prime Minister Stephenson King, Minister for Agriculture Ezechiel Joseph, PS of Agriculture Hubert Emmanuel
Monday, April 20, 2009 – The Government of Saint Lucia through the Ministry of Agriculture, Lands, Fisheries & Forestry on Wednesday officially launched a multi-million-dollar National Meat Processing Facility at the Beausejour Agricultural Station in Vieux-Fort. Upon completion by April 2010, the ultra-modern facility is expected to cost the Government in excess of Twelve-Million-EC-Dollars. It will be built with financial support from the Taiwanese Government.
Prime Minister, Stephenson King, who delivered brief remarks at Wednesday's Sod Turning Ceremony, gave a brief history of the funding sought for this new facility. He noted : "The people and government of Taiwan came to the rescue of Saint Lucia, since the original EU-funding targeted under the Special Framework of Assistance (SFA 1999) was no longer available to the St. Lucian Government in 2008" due to administrative delays in implementing that particular European fund, so the incumbent administration approached Taiwanese Ambassador, Tom Chou, for his government's financial assistance which was readily approved in the amount of EC$12.5 million.
The Prime Minister also urged Agriculture Minister, Ezechiel Joseph to "transform the Beausejour Agricultural Station as the 'Livestock Capital' of Saint Lucia." Mr. King also encouraged more local farmers to get involved in the livestock industry and the operations of the Meat Processing Facility, which is poised to significantly decrease the country's food import bill in the coming years. Prime Minister King also felt that the new National Meat Processing Facility would serve to modernize the livestock sector in particular, and the agriculture industry in general, while generating retail business and creating employment opportunities for Saint Lucian farmers. A particular prime ministerial note was made of the ongoing agricultural diversification thrust of the Ministry of Agriculture, Lands, Fisheries & Forestry.
Ambassador Tom Chou, conveyed his government's continued commitment to honour its financial obligations to the government and people of Saint Lucia, especially during this prevailing period of global economic crisis.
The sod turning ceremony was also addressed by Minister for Agriculture, Lands, Fisheries & Forestry, Ezechiel Joseph, who applauded Taiwanese Ambassador, Tom Chou, for assisting the people and Government of St. Lucia in assisting in the effort to ensure that the National Meat Processing Facility becomes a reality during this period of global economic adversities.
The sod turning ceremony was also witnessed by several government ministers, staff members of the Ministry of Agriculture, Lands, Fisheries & Forestry, members of the Livestock Association of St. Lucia and other well-wishers.