Contact: Chris Satney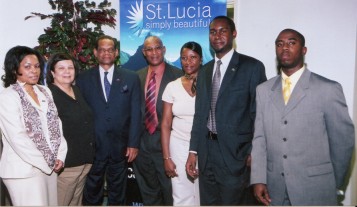 Members of the Saint Lucia Consulate in New York with Health Minister Hon. Damian Greaves attending the Second Quarterly Meeting of the Saint Lucia Consulate.
Friday, June 9, 2006 – The Saint Lucia Consulate in New York and the Permanent Mission to the United Nations under the leadership of H.E Dr. Julian R. Hunte held its second quarterly meeting last week with St. Lucian organisations based in the American State.

The gathering held on May 31st at the offices of the Consulate on 800 Second Avenue had an audience of 75 persons which included prominent St. Lucian business persons in New York City.

Representatives of the various organisations in attendance gave updates on their past, current and future activities which are mainly fund raisers that provide assistance for Saint Lucians in the United States and at home.

Deputy Consul General, Mr. Olaf Fontenelle says he is dedicated to the further development of such activities for the Saint Lucian Community. He said the forum provided an avenue for associations to express their concerns and make suggestions so that the Consulate and the Mission can provide worthwhile assistance and together further strengthen the Saint Lucia New York diaspora.

Cabinet was represented by Health Minister Honourable Damian Greaves who was also in New York for a high level meeting of the General Assembly and Comprehensive Review of the Progress Achieved in realising the targets set out in the 2001 Declaration of Commitment on HIV and AIDS.

Air Jamaica representatives who were part of the gathering made presentations of two free tickets to winners of an on-the-spot raffle—Kevon Smith, a Saint Lucian Student in New York and Danette Sampson, an executive member of the Saint Lucia United Association of New York Incorporated. Smith received an Economy Class ticket while Sampson received a First Class ticket to any Caribbean destination.