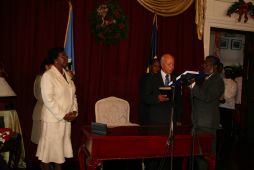 Sir John Compton taking his oath of allegiance and secrecy.
Friday, December 15, 2006 – St. Lucia's Prime Minister Sir John Compton was sworn in on Friday by Governor General Dame Pearlette Louisy. The ceremony was attended by Sir John's family, United Workers Party Parliamentarians, members of the media and well wishers. Sir John, after taking the Oaths of Allegiance and Secrecy, thanked the people of St. Lucia for electing him as leader, a position which he has accepted with humility. However Sir John said this is not the time to focus on victory but to get down to real work.

He says the first order of business for the government are crime, unemployment and fiscal prudence, to name a few. According to Sir John: "I pledge that this government will be a government of all the people of St. Lucia. As we move to address the development agenda that is before us, we have an obligation to put behind us the years of political tribalism that was so glaringly demonstrated in the recent weeks. We must renew our country based on the recognition that the national interest takes precedence over the individual or political positions."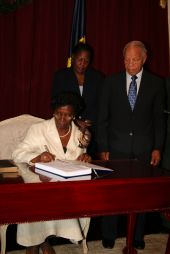 Her Excellency Dame Pearlette Louisy cementing the official swearing in of the Right Hon. John G.M. Compton as Prime Minister of Saint Lucia
Sir John said his government would soon be working on the 2007/2008 National Budget. He made it clear that in cost cutting measures, the jobs of civil servants will remain untouched. The Prime Minister said under the agenda to address crime
an independent police complaints commission will be set up.

"We will give the police the free hand to do their duties within the law. The police complaints commission will be established to safeguard the rights of the public,"
Sir John said. He added that a secure and safe society is necessary not only for the growth of the economy but also for the development of society. "We will put an end to the day to day interference in the police force and will make the police and the courts fully responsible in dealing with crime and criminals", Sir John added.

Sir John also pointed out that government will be making significant investments in education and health, and added that government intended to restore study leave with pay for teachers and civil servants.

The United Workers Party was elected on December 11 with 11 seats, while the Saint Lucia Labour Party won 6 seats.

Parliamentarians are expected to be sworn in on Tuesday December 19 at the Prime Minister's official residence at Vigie.