Contact: Embert Charles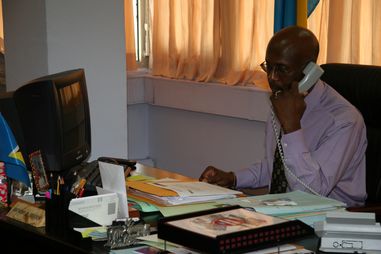 Tuesday, August 15, 2006 – Mr. Anthony Severin has been appointed as Saint Lucia's New Ambassador/Permanent Representative to the United Nations (UN). Ambassador Severin assumed duties in New York on August 1st 2006.
He replaces Ambassador Julian R Hunte who resigned from the position after three years at the UN serving a full term as president of the twenty third session of United Nation General Assembly. Ambassador Hunte resigned from the position last month to serve as a candidate for the Saint Lucia Labour Party in the next general elections.
Ambassador Severin is an accomplished career civil servant with an extensive record of representing Saint Lucia internationally. He has been serving as Ambassador Extraordinary and Plenipotentiary in the Office of the Prime Minister and Ambassador to the Caribbean Community since 2001.
He also served as Ambassador/Permanent Representative to the United Nations from August 2003 to November 2004 during Saint Lucia's Presidency of the United Nations General Assembly. Prior to these appointments he served for almost seven years as Secretary to the Cabinet and Permanent secretary in the Office of the Prime Minister.
The newly appointed Ambassador to the United Nations presented his credentials to H.E. Mr Kofi Annan, Secretary General of the United Nations on Friday, August 11, 2006. In the course of his meeting with Mr Annan, Ambassador Severin conveyed the best wishes of the Government and People of St Lucia, and assured the Secretary General of St Lucia's continued support for, and active participation in, the work of the United nations.