Contact: Chris Satney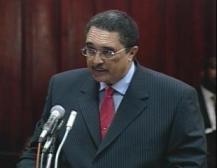 Hon. Dr. Kenny D. Anthony Delivering Appropriate Bill (Budget) for 2006/2007
Wednesday, April 26, 2006 – Prime Minister and Minister for Finance and Economic Affairs Hon. Dr. Kenny Anthony on Tuesday evening presented a 1.1 billion dollar tax free budget, for the period 2006-2007.

In his over four-hour presentation the Prime Minister said the total planned level of expenditure amounts to one thousand, one hundred and twenty one point five million dollars, representing an increase of 17.3 percent over last year's figures.

"The planned level of recurrent expenditure, exclusive of amortisation, is $611.6 million, representing 54.5 percent of total planned expenditure, and is 9.8 percent higher than the previous year. Debt amortisation is forecast at $88.5 million and accounts for 7.9 percent of total planned expenditure planned level of capital expenditure is forecast to increase by 25.5 percent to $421.4 million and accounts for 37.6 percent of the total budget. This increase largely reflects the continuation of ongoing capital projects and the re-budgeting of EU-grant financed projects, as funding was not received in the last fiscal year. The sources of financing for the 2006-2007 Budget are as follows: The 2006-2007 Budget will be financed through Recurrent Revenue of $621.6 million, Capital Revenue of $9.2 million, Excess Revenue and the re-budgeting of bonds from fiscal year 2005-2006 of $16.0 million, Grant Funding of $76.5 million, of which $61.4 million is from the European Union, Previously approved Loan Funding of $153.8 Million," the Prime Minister said.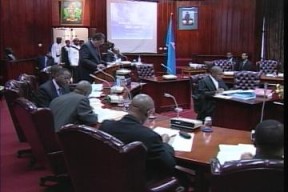 House Members Listen to Budget Presentation
The 2006-2007 National Budget will also be financed by previously approved bond funding of 88.4 million dollars, new bond funding of 123.6 million dollars and new loan funding of 32.4 million dollars.

"In effect, Mr Speaker, I shall be seeking the approval of this Honourable House for $156.0 million for new funding. This amount, Honourable Members will be pleased to know, is $32.4 million lower than the amount that I sought approval for last year, which was $188.4 million. This confirms the downward trend of borrowing," Dr. Anthony said.

Dr. Anthony said the only adjustment this fiscal year will be an increase in Departure Taxes for visitors. Effective July 1st 2006, Departure Taxes for non-nationals will increase from US$20.00 to US$25.00. The increase in Departure Taxes however does not affect St. Lucian nationals.

Dr. Anthony described the budget as one that funds important priorities, without imposing new taxes. The 2006-2007 National Budget, he added, presents expanded opportunities for the greater triumphs and achievements that await St. Lucians. According to the Prime Minister, this current phase of economic expansion will continue through 2006 into 2008, with growth sustained by significant activity in the tourism, construction and banking sectors.