Contact: Chris Satney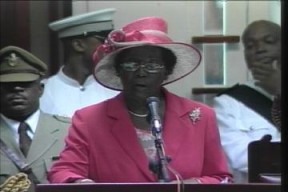 Governor General Her Excellency Dame Pearlette Louisy delivering her Throne Speech
Wednesday, April 26, 2006 – Governor General Her Excellency Dame Pearlette Louisy delivered her Throne Speech on Tuesday 25th April, opening the Sixth Session of the Eighth Parliament.

Dame Pearlette Louisy in her presentation reminisced on the tranquillity of the old days and the reality which is quickly eating away at the foundation set by many already deceased.

She said much of the pride that existed in decades past was achieved with no piped borne water, electricity or telephones. She said older generations did not have the benefits of public healthcare and universal education but managed to produce world-class scholars.

"We are engaged in a society that too often celebrates wrong doing and which turns a blind eye. We tend to criticize but not contribute. We are quick to talk but slow to act. Many know the problems but few will pioneer the solution. We are quick to condemn the victim and undermine the ambitious. We want employment but do not want to work for someone else. We gossip and spread ill will. We will go along with the popular lie rather than stand alone for truth," said the island's Head of State.

Dame Pearlette said the St. Lucian society is in danger of losing its treasured past to misguided behaviour and said abandoning that history would prove detrimental to a generation that does not even know where it is heading. Compared to their parents, she said, young students have an altogether different appreciation of the world and their role within it.

"All these trends suggest that the young Saint Lucian psyche is being bombarded. New images of popular living are imported daily via the media and the internet. Those images include the glorification of violence and the trivialisation of sex, the corruption of society and the indulgence of the individual self. If we lack a keen understanding of ourselves and our own vision and values, then we will hasten to fill the void with what we are told is 'fly,' 'fab' and 'gangsta,'" Dame Pearlette said.

She said the advent of the CSME may alter the island's demographics as citizens of this region exchange addresses. She said under such an environment St. Lucians will have to embrace the idea of togetherness as the most important ingredient to survival.