Contact: Chris Satney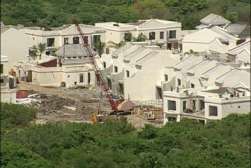 Plantation on Cotton By Resort under construction
Tuesday, September 20, 2005 - Developers of the Plantation on Cotton Bay Resort, currently under construction, are confident that business will start by Easter of 2006. The property which is the newest addition to Sunswept Resorts is nearing final stages of construction. It will be complete with 74 luxury suites, townhouses and villas—five star restaurants, spa and golf course.

The Plantation on Cotton Bay in the first major resort on the east coast of Saint Lucia and according to Sunswept Resorts Director of Marketing Michael Bryant, it will be suitable for travellers searching for comfort and extravagance rather than cost.

"The resort is going to be looking to employing at least 180 people of all different areas of resort's business including spa, kitchen, restaurant, housekeeping, maintenance and so on. This is a five star resort and there is a lot of training to be done. The General Manager, Kevin Snaggs, will be looking to starting those programmes very shortly to get ready for the next few months," Bryant said.


Minister for Tourism Honourable Phillip J Pierre who joined the resort's management team in a tour of the Cas-en-Bas development on Thursday 15th September 2005 expressed satisfaction with progress of work thus far and says the development is part of St. Lucia's thrust to get to 7000 rooms by 2007.

"I am pleased the investors have shown confidence in the economy of St. Lucia, confidence in our tourism industry, the confidence in the stability of the St. Lucia Government and the Confidence in the St. Lucian People. As you know St. Lucia is renowned for the hospitality of its people and by these investors spending these millions of dollars is testimony to that confidence," Minister Pierre said.


Chairman of the Saint Lucia Tourist Board Costello Michel says the Plantation on Cotton Bay Resort will be an upscale resort, which will attract tourists with spending power to the island. Sunswept Resorts incorporates the Plantation on Cotton Bay resort, the Jalousie Plantation Resort, the Body Holiday-Le Sport and the Rendezvous Hotel.