Contact: Chris Satney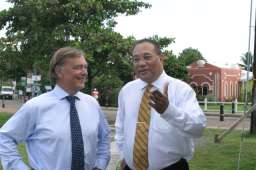 Ambassador Richard Bernal of the Caribbean Regional Negotiating Machinery (CRNM) head of the CARIFORUM negotiating team and Mr. Karl Falkenberg Principal Negotiator for the European Union
Wednesday, September 28, 2005 - St. Lucia is the venue for the second CARIFORUM-European Commission Ministerial Meeting to be held on Friday. The meeting scheduled for the Rex St. Lucian, will follow the Fourth CARIFORUM-EC Meeting of Principal Negotiators held Wednesday at the Coco Palm hotel in Rodney Bay.

Trade Policy Advisor with the Caribbean Regional Negotiating Machinery Dr. Claudius Preville says Friday's Ministerial Meeting will involve discussions and agreement, among trade heads, on how both sides will move forward with negotiations into phase three of the Economic Partnership Agreement, EPA.

"Essentially as you would imagine, the ministers need to meet, agree on certain key milestones—what has been accomplished at the technical level by the principal negotiators—to sign off on that and provide further direction and mandate for the principal negotiators on both sides," said the CRNM official.

Dr. Preville who is also the RNM's Representative to the OECS says the fact that these activities are being held in St. Lucia, an OECS member state, is testament to the present visibility of the RNM and its work in the sub-region.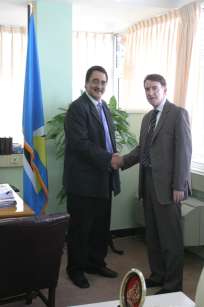 Prime Minister of Saint Lucia Hon. Kenny Anthony and European Commissioner Mr. Peter Mandelson.
"After all it's about all of us—its not only one set of members of CARICOM, it's about the entire Caribbean Community and in case of the EPA, the entire CARIFORUM," Dr. Preville said.

The Caribbean Regional Negotiating Machinery has since last Thursday been conducting consultations among stakeholders in the private and public sectors on the CARIFORUM-EU Economic Partnership Agreement, which is to come into effect in January of 2008.