Contact: Rose Marie Harris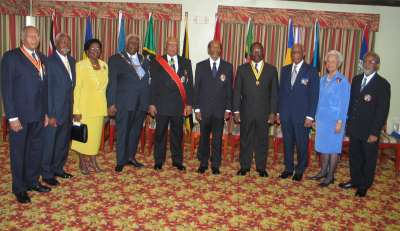 Heads of State of Caricom at 10th Meeting in Belize
Wednesday, October 12, 2005 - Her Excellency Dame Pearlette Louisy Governor General of Saint Lucia is back home after attending the Tenth Conference of Heads of State of CARICOM countries which was held in Belize from October 3rd to 7th,. 2005.

Dame Pearlette moderated the session on "Human Resource Development: The Basis of Sustainable Development." Of special interest to Saint Lucia was the emphasis placed during the conference on the issue of protecting out biodiversity, given our own current efforts in this regard and the preparation of our own National Biodiversity Strategy and Action Plan. The region's hosting of Cricket World Cup 2007 was also discussed. The conference noted however the seemingly unresolved impasse surrounding the forthcoming West Indies Cricket Tour of Australia and expressed concern about the unfortunate effect this might have on the hosting of the tournament in 2007.

The meeting also discussed National Security, Human Resource Development, Culture, Tourism, and Infrastructure, Agricultural Policy and Biodiversity and their relationship to Sustainable Development. Dame Ivy Dumont of the Bahamas, Sir Clifford Husbands of Barbados, Sir Colville Young of Belize, Dr. Nicholas Liverpool of Dominica, Sir Daniel Williams of Grenada, Sir Howard Cooke of Jamaica, Sir Cuthbert Sebastian of St. Kitts/Nevis, Sir Frederick Ballantyne of St. Vincent and the Grenadines and Professor Maxwell Richards of Trinidad and Tobago all attended the Belize meeting.

The Eleventh Conference is scheduled to be held in the Republic of Trinidad and Tobago in October 2006.