Contact: Chris Satney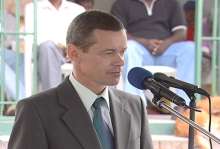 Resident British High Commissioner Kevin Greene
Friday, May 13, 2005 - Saint Lucia and the wider Caribbean region have been assured continued support from the British Government in alleviating poverty in their countries. This pronouncement was recently made by Resident British High Commissioner to St. Lucia Mr. Kelvin Green.

The British Government is currently involved in a number of programmes within the region, which the newly installed Resident British High Commissioner says usually go unnoticed. Mr. Green says the British Government through the Department for International Development (DFID) is very committed to the achievements of internationally agreed United Nations Millennium Development Goals which includes the reduction by 2015 the proportion of people suffering from hunger.

"DFID's current strategy emphasises working with and through regional institutions as well as with other donors, in order to address the development issues in the region. Programmes in the region are focused on three broad themes – first economic management and public service delivery - Second, trade competitiveness and economic integration and thirdly HIV/AIDS, crime and violence," Mr. Green said.

Mr Green says Britain is also hoping to strengthen the Caribbean Centre for Development Administration in order to enable it to deliver demand led technical support to public administrations in the region. He says the UK is also giving support to the Regional Negotiating Machinery and the regional HIV/AIDS programme.

"We want to encourage private sector participation in HIV/AIDS and address the important areas of stigma and discrimination against those who are suffering from HIV, Mr Green said.

The British Government recently provided technical support for a horticultural income generating project of the Cornerstone Humanitarian Centre located at Vigie. The project which also involved the construction of a female dormitory was funded by the Poverty reduction fund to the tune of some $240, 000.