Contact: Chris Satney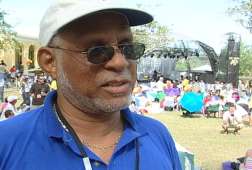 Saint Lucia's Director of Tourism - Hilary Modeste
Wednesday, May 11, 2005 - The St. Lucia Tourist Board is taking a serious look at its hosting of this year's St. Lucia Jazz, with a view to better positioning the event to face competition from emerging Jazz festivals from around the region.

The Tourist Board conducted a survey among patrons at the various activities of this year's St. Lucia Jazz hoping to get from them feedback that could only make the event more spectacular and bring in more visitors.

Director of Tourism Hilary Modeste says public response to changes made to the main stage was particularly important to the Board. He says this will continue to make the St. Lucia Jazz responsive to the market and keep it ahead of events of its kind. "We rely very, very heavily on the information we receive from the surveys that we do while our visitors are here - as to what they like about the event, what they do not like about it, and what they would like to see - and we take all this and incorporate it in the changes that allow us to stay ahead of the game," Mr. Modeste said.

St. Lucia Jazz, Mr. Modeste says has progressed to a point where it is now a brand name, and tourism officials are wasting no time in capitalizing on this, much to the benefit of the industry. The Tourism Director says it is this success which has attracted the interest of other Caribbean Islands to actually come and experience the event so they can better develop their own product.

"Turks and Caicos had a team of about twelve people here and they said this location is superb – they are trying to design a stage for their own event. The Cayman people were here as well. We had some people from Cayenne – they are trying to develop their own Cayenne Jazz Festival. So St. Lucia is seen as the forerunner; St. Lucia is seen as the success model," said Mr. Modeste.

The Tourism Director says while it may be very difficult for these countries to replicate St. Lucia Jazz, the Tourist Board will not become complacent and is continuously searching for ways to make St. Lucia Jazz bigger and better with every passing year.