Contact: Director of Information Services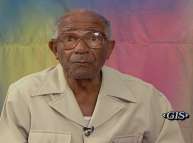 Hon. Creswick Winville King
Tuesday, May 17, 2005 - The Government of Saint Lucia has received the sad news of the passing away of Hon. Creswick Winville King, SLC (Saint Lucia Cross), CBE, OBE, MBE. Mr. King or 'Winnie' as he was affectionately called was a true example of selfless national service and worked tirelessly in the pursuit of numerous causes in the interest of the development of Saint Lucia.

Born in Soufriere on July 23rd 1917, he attended the Methodist Infant School and St. Mary's College where was an all round athlete, a foundation which led him to become a cricket umpire and commentator. His association with the media and broadcasting in particular included stints as newscaster and outside broadcast commentator with the Windward Island Broadcasting Service (WIBS). This career climaxed with his appointment as the first chairman of the St. Lucia Broadcasting Corporation where he pioneered several revolutionary policies in media development in Saint Lucia.

Mr. King's sojourn with Civil Service started in 1935 having responsibility for the introduction of local government. He held a number of senior positions in the public service including Elections Supervisor and he was responsible for introducing Adult Suffrage in 1951 "to all nooks and crannies of Saint Lucia, teaching what it meant to be able to vote and how to vote". He was also a founding member of the Saint Lucia National Trust.

Hon. Creswick Winville King first retired from the Civil Service in 1962 but was recalled to serve as the first secretary to the Cabinet of Ministers of Saint Lucia following the attainment of Associated Statehood in 1967, a position he held until his second retirement from the public service in 1971. He then joined the private sector serving in senior executive positions with the firm of Peter and Company until 1992.

"Winnie" was an avid supporter and participant in the development of all aspects of the creative arts and was an avid member of the Creative and Performing Arts Society. He was invested with the Saint Lucia Cross in 2003.

The Government of Saint Lucia extends deep and sincere condolences to his wife Thelma, a retired educator, children June and Junior and the entire family of Hon. Creswick Winville King on the passing of this illustrious son of the soil, one who had a passion for his country, a dedication to service and a love for people. May he rest in peace.

Office of the Prime Minister.