Contact: John Emmanuel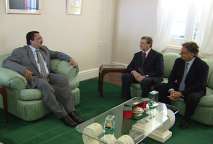 Prime Minister Hon. Dr. Kenny Anthony flanked by Italy's Deputy Foreign Minister Giampaolo Bettamio (Left) & Italy's Ambassador Plenipotentiary to St. Lucia Gerardo Carante
Thursday, May 12, 2005 - St. Lucia and other CARICOM member states are in line for further benefit from the latest memorandum of understanding signed this week, between the Italian Government and CARICOM. Italy's Deputy Foreign Minister Giampalo Bettamino affixed his signature to the agreement along with CARICOM Secretary General Edwin Carrington.

The Italian Deputy Foreign Minister, on a tour of the region, paid a courtesy call on St. Lucia's Prime Minister Honourable Dr. Kenny Anthony on Tuesday, May 10, 2005. He spoke of multilateral talks that would lead to increase cooperation with the CARICOM grouping along the lines of e-government as well as bilateral discussions that could benefit St. Lucia in the field of tourism.

"We are ready to cooperate and to have much more Italian visitors here than in the past. We know from Europe that St. Lucia has a very large presence of German people and it would be nice if we could get similar figures of Italian tourists coming to your country," said Bettamino.
Italy's Deputy Foreign Minister Giampaolo Bettamio
Prime Minister Honourable Dr. Kenny Anthony said the relationship between Italy and St. Lucia had been longstanding and has been strengthened over the years. The arrival of the Italian Deputy Foreign Minister he noted, would allow for discussions not only on domestic and regional issues but on international issues like the reform of the United Nations and its Security Council.

Dr. Anthony said, "Italy holds a fascination for people in the Caribbean." He noted, "We must never forget that the majority of St. Lucians are Catholics and most of them travel to the Vatican in Rome for religious reasons. Therefore Italy is an important country to us and that's why we have maintained an Honorary Consul in Italy to look after our affairs and the affairs of St. Lucia over there."

Prime Minister Anthony pointed out that discussions on boosting tourist arrivals from Italy and surrounding areas will be pursued vigorously, as St. Lucia had in the past welcomed to it's shores several high level Italian officials among them, Italy's Prime Minister Silvio Berlusconi.