Contact: Julita Peter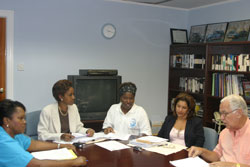 (L-R): Paula James, President of St. Lucia Amateur Swimming Association Brenda Boland, President of Trident Swim Club; Yasmin Tyson, President of Hurricane Swim Club; Cheryl Renwick, Public Relations Officer, St. Lucia Amateur Swimming Association; Joseph "Reds" Perreira, Sports Consultant at the St. Lucia Tourist Board
Thursday, March 10, 2005 - Close to 400 persons comprising swimmers, officials and the press from the French territories are to visit St. Lucia this weekend for the 16th Annual International Swim Meet of French Antillean territories. The event which is also called the MIAGE will take place at the Rodney Heights Aquatic Centre, on Saturday and Sunday March 12th & 13th.

Forty-three St. Lucian swimmers between the ages of 7 and 10 years, representing CJ's, Hurricane, Trident and the Rodney Heights Aquatic Centre Swim clubs, will compete against 173 of their French counterparts. The MIAGE is organized by clubs in Martinique, St. Bathe, Guadeloupe and French Guiana. This is the first time that the meet is being held outside of a French territory.

The visiting delegation is being hosted by the Trident and Hurricane Swim clubs. Last year, the two clubs signed an agreement to become part of the organizing group of the MIAGE, which means that the MIAGE will come to St. Lucia every four years.

President of the Trident Swim Club and member of the local planning committee for the 2005 MIAGE Brenda Boland, thinks it is an enormous event for St. Lucia, and one that will provide an opportunity for more cooperation within the local swimming clubs.

"I think competition in the swimming arena is very healthy, and to date it has always been a friendly supportive competition. This kind of meet allows our children to compete against swimmers that they have not faced before. Typically we swim against Trinidad, Barbados and the other OECS territories, so to see the French swimmers this time around is going to be a challenge, because they have no clue what the competition is going to be like", said Ms. Boland. Also, as the mother of a young swimmer, she believes it is an opportunity for children to find great friends in the region.

Ms. Boland said she was looking forward to the day when swimming would be one of the leading sports on the island, with an increased number of clubs representing the island overseas. She said this weekend's event would also provide an opportunity for local swimming coaches to develop ideas on how their programmes could be enhanced. The French swimmers will be accompanied by Top Martiniquean swimmer Jack Seco.

Organizers have assured adequate emergency and security personnel throughout the event.