Contact: John Emmanuel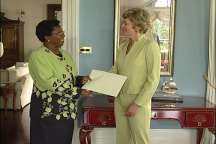 H.E. Ms. Marianne Dacosta presents Letters of Credence to Governor General H.E. Dame Pearlette Louisy
Thursday, June 02, 2005 - After years of multilateral relations with the Federal Republic of Austria via the European Union (EU), Saint Lucia and Austria are set to commence diplomatic relations along bilateral lines. On Thursday, June 2nd, 2005 at a brief ceremony at Government House at Morne Fortune, Governor General Her Excellency Dame Pearlette Louisy was formally presented with the Letters of Credence of Austria's new Ambassador to St. Lucia and the Caribbean Her Excellency Marianne Dacosta.

Ambassador Dacosta spoke of strengthening ties and forging partnerships along several lines with Saint Lucia. She hinted to her country's vast experience in areas of sustainable environmental management, alternative energy related matters, for example hydro-power and strides in the services sector, namely tourism, as possible avenues for increased cooperation with Saint Lucia.

"On the multilateral scene, Austria supports and recognises international courts, especially the International Court of Justice," said Ambassador Dacosta. She went on, "Austria has noted with interest the creation of the new Caribbean Court of Justice. The possibility of judicial processes in a multilateral tribunal opens justice to the most modern concepts and will ensure in the long run, high quality systems worldwide."

Saint Lucia is expecting to cash in on that offer as preparations get underway for Austria to host the IV EU-LAC Summit, in May of 2006, during her Presidency of the European Union. "I thank your government for your kind offer of free Office Space to facilitate our participation in meetings at the UN Headquarters in Vienna," said Governor General Dame Pearlette Louisy.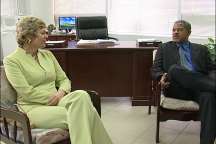 H.E. Ms. Marianne Dacosta meets with Acting Prime Minister Hon. Mario Michel
"Our presence at these international meetings and negotiations is becoming increasingly mandatory if we are to keep our particular and special interests at the top of the international agenda. I am pleased too to learn of your offer of support in our preparations for the IV EU-LAC Summit next year, and I hope that we do take you up on this generous gesture of goodwill and collaboration," noted Dame Pearlette.

Ambassador Dacosta also paid a courtesy call on Acting Prime Minister Honourable Mario Michel. The two further discussed plans for the appointment of an Austrian Honorary Consul here in Saint Lucia. Ambassador Dacosta is based at the Austrian Embassy in Caracas, Venezuela and represents twelve Caribbean States including Haiti and the Dominican Republic.