Contact: John Emmanuel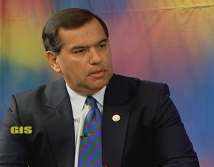 Mr. Gaddi Vasquez – Peace Corps Worldwide Director
Tuesday, June 28, 2005 - The functions and operations of the over four-decade year old St. Lucia leg of the Peace Corps movement is currently being assessed. The assessment is being carried out by Peace Corps Worldwide Director Mr. Gaddi Vasquez in the form of a Caribbean tour. Mr. Vasquez, who left the island Tuesday June 28th, for Grenada, held talks with Governor General Her Excellency Dame Pearlette Louisy and Health and Human Services Minister Honourable Damian Greaves among others.

Mr. Vasquez says the impact of the work of Peace Corps volunteers on the social landscape of the Caribbean has been quite noticeable. "Generally in the Eastern Caribbean I would say that the programme is very strong," says Vasquez. In an interview with the Government Information Service (GIS) Vasquez says, "Americans continue to have an interest in serving placing us at a 29-year high right now in relation to the number of volunteers serving in the Peace Corps overall."

He says as countries in the region evolve so has the programmes of the movement. "Here in St. Lucia which is one of the earliest programmes in the history of Peace Corps we continue to enjoy a considerable amount of success," exclaims Vasquez.

The Peace Corps top man says he is pleased with the focus of the Saint Lucia programme, which places much emphasis on community and social services, special education, information technology (IT) and HIV/AIDS awareness. "I believe that we are going to make great advances here in Saint Lucia and that we as Peace Corps are committed to assisting and collaborating on the important and key messages on the subject of HIV/AIDS education and prevention."

He went on, "This is a pandemic and as Worldwide Director of the Peace Corps I have travelled over forty countries and have seen the face of AIDS and it is sad, heart breaking and gut wrenching to see the suffering, poverty, orphans and the general impacts of the disease. Therefore it's incumbent on all the nations of the world to work collectively to eradicate AIDS from the face of the earth and we at the Peace Corps are working to that end.

Mr. Vasquez is of the view that one of the most important things for the Eastern Caribbean is to develop programmes that attract young people, engaging them in productive and meaningful activities that will have a long term effect on their lives

The Peace Corps movement was established in 1961 by United States President John F. Kennedy, as a mechanism to promote global peace, friendship and cross-cultural understanding.