Contact: John Emmanuel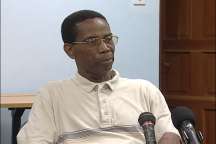 Water Reform Sector Project Co-ordinator Aloysius Barthlemy
Wednesday, June 22, 2005 - Efforts continue here at laying the ground work for the coming into being of a new water utility company come the first quarter of 2006. The new company will be a public/private sector partnership, and is seen as a critical part of the overall water sector reform initiative currently taking place here.

The Government of Saint Lucia, the World Bank and the Caribbean Development Bank Water Sector Reform initiative dates back to 2002 when work commenced on the development of an adequate legal and regulatory framework for private sector participation and ultimate design of the private sector participation strategy for WASCO in the provision of water and sanitation services in Saint Lucia.

Project Co-ordinator of the Water Reform Initiative Aloysius Barthelmy says the intention is for government, who at the moment is the sole shareholder of the Water and Sewerage Company (WASCO) to offer shares to local, regional and international investors. Statistics indicate US$18 million dollars are needed as a short term measure to upgrade the water sector in light of Saint Lucia's hosting of matches in Cricket World Cup 2007.

US$7.7 million dollars have already been secured through a government negotiated World Bank loan. That funding will help in alleviating water shortages in the north for infrastructural works which will allow the utility company to supply that portion of the island with a more efficient, continuous and reliable service. The additional $US11 million dollars required will be amassed through the sale of shares, a venture which officials say looks promising.

"By July 6th of 2005 proposals for the involvement of the private sector in the transaction process should have been submitted to the Government's Central tenders Board. Following that phase we anticipate by August 15th 2005 we will be engaging the transaction advisor and by the end of March 2006 we anticipate that we would have finalized the sale of shares, having signed all documentation and the funds deposited in a specific account. We are essentially basing this business venture on the LUCELEC model," says Mr. Barthelmy.

The overall reform initiative also involves mechanisms to strengthen WASCO's internal systems to develop industry accepted technical, accounting, management and information systems, as well as enhancing the skills of existing staff in key operating areas. World Bank financing has also been secured for a new billing system for the company. The regulatory framework under which the company operates will also be examined together with its financial history as a means of boosting investor confidence.