Contact: Chris Satney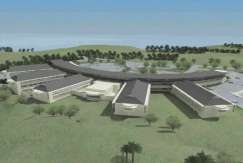 Proposed National Hospital
Wednesday, June 15, 2005 - Construction of a National Hospital for St. Lucia is set to commence in the first quarter of 2006 following the completion of the design of the new facility. The design was presented to the Cabinet of Ministers and other government officials on Tuesday June 14th 2005.

The design of the state of the art national hospital comes after almost 2 years of consultation with a wide cross section of persons with interest in the hospital. The new hospital when completed will boast a state of the art accident and emergency department - one of 33 subdivisions of the facility. The new institution will also comprise obstetric suites which will include 31 anti and post natal beds, five delivery beds and a special care baby unit. It will also include a 21 bed paediatric unit, three acute general wards equipped with 65 beds and eight dialysis chairs.

The facility will also be equipped with four operating theatres – two general, one day-surgery and one obstetric. The structure of the new hospital will be built to withstand the forces of hurricane and earthquake and will be built to accommodate future expansion.

The new hospital design was prepared by Sir Frederick Snow and Partners of the United Kindgom. Managing Director Mr. Phillip Martin, says construction of the new national hospital could begin as soon as January of next year.

"We're looking at two to two and a half years of construction, so during this period – the two and a half to three years – we should be preparing ourselves to operate and manage the hospital. It is a good period, a good time to train people to get an understanding of hospital they are going to manage and to prepare for it and get it going," the head of the design team said.

Minister for Health, Family Affairs and Gender Relations Hon Damian Greaves says the release of the designs is an indication that Saint Lucia is moving closer to improving the delivery of health care.

"If we need to modernize our health services and our hospital care, we would be compromised by the building at Victoria hospital. We have developed an alliance with the French authorities and with the Laminar Hospital. In fact the Laminar Hospital is about 80% complete and we are following closely on the heels of that hospital, which will in fact be the same size with the hospital we are building in St. Lucia," the minister said.

With the completion of designs, the architects will now prepare working drawings. That phase which is expected to last three to four months will be followed by the preparation of tender documents and the tendering process for the construction of the hospital which will also take three to four months to complete. The new National Hospital is expected to be ready before the end of 2009.