Contact: Julita Peter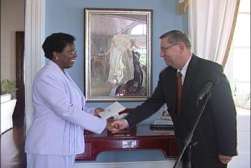 Her Excellency Dame Pearlette Louisy, Left and His Excellency Jens Peter Larsen, Right
Wednesday, June 22, 2005 - His Excellency Jens Peter Larsen is now the Ambassador of the Kingdom of Denmark to St. Lucia. The Danish Ambassador presented his letters of credence to Governor General Dame Pearlette Louisy on Thursday June 16th. The new ambassador replaces Mr. Soren Voss who served for four years from 1996-2000.

In a brief welcome address Dame Pearlette Louisy extended best wishes to Her Majesty Queen Margrethe the 2nd and wished Ambassador Larsen a rewarding tour of duty. "We pledge our fullest support as we work with you to explore ways in which we can further strengthen the good and friendly relations which already exist between our two countries," Her Excellency said.

For his part Ambassador Larsen pledged that he will do his best during his stint to promote and develop the already good and friendly relations which exists between Denmark and Saint Lucia.