Contact: Chris Satney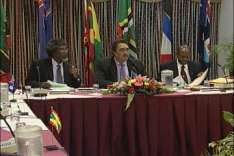 Left to Right: Governor Sir Dwight, new Chairman ECCB PM Anthony - St. Lucia and former Chairman PM Douglas - St. Kitts Nevis
Monday, July 25, 2005 - Considerable attention was given to concerns world oil prices when the Monetary Council of the Eastern Caribbean Central Bank met in Saint Lucia on Friday 22nd July 2005. The Council agreed that a comprehensive study of the implications of oil prices on regional economies would be conducted in addition to discussions of the issue at its next meeting in October 2005.

Prime Minister of Saint Lucia and newly installed Chairman of the Monetary Council of the ECCB Honourable Dr. Kenny Anthony said members further agreed that the fiscal shocks resulting from the escalating price of oil would result in the need for some governments to allow the price of gas to increase. Dr. Anthony said continued economic expansion will be affected by the increases in the price of oil prices and though inflation remains moderate, current inflationary pressure is a direct result of the rising cost of oil.

"Council continue to express concerns about the likely impact of oil prices on continued expansion in the ECCU currency area as a whole. Council merely added that there are some government in the region who may have to make adjustments but council was not specific as to which member states would so proceed. That is entirely a matter for the member states because there are different levels of prices within the member states of the currency union," Dr. Anthony said.

The council's discussion extended to Money and Capital Market Developments, Domestic Outputs, Money and Credit Policy and Financial Sector and Exchange Rate Stability. The council noted the fiscal good health of the currency union pointing to external reserves which represented almost 97% of its demand and that other liabilities were adequate to ensure the maintenance of the value of the currency.

"The foreign exchange reserves held by the bank of over $1708 million dollars, being the equivalent of almost 3 months of imports were in excess of the accepted standard of a minimum of three months. The international reserves of the ECCU that is the ECCB and the commercial banks combined of $3925 million were equivalent to 10.6 months of imports. If you prefer that is roughly 3.9 billion dollars close of course to 4 billion," the new Council Chairman said.

Council members Dr. Anthony said welcomed the continuing expansion in economic activity in the ECCU in the first quarter of 2005, which he said was in line with expansion in the global economy. Dr. Anthony said the Council however cautioned that while the short term outlook continued to be favourable, growth in the ECCU was subject to the risks and uncertainties in the global economy, including the rising oil prices.

The next meeting of the ECCB's Monetary Council will be held in St. Kitts and Nevis in October 2005.