Contact: Claudia Monlouis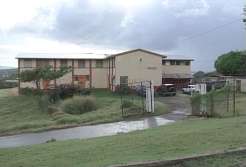 Boys Training Centre
Tuesday, July 26, 2005 - The staff of the Boys Training Centre in Massade, Gros Islet has brought into sharp focus the need for the society to cultivate a renaissance of virtues and values to help fight the social ills effecting St Lucia.

Some twenty employees of the Centre on Thursday, July 21st marked the close of the first phase of the programme with a graduation ceremony at the Sandals Grande Hotel.

The first phase of the programme extended from April 7th to 12th of May. The programme entitled "Chartering the way to success" lasted several weeks and focussed on using positive character traits as a means to develop a more positive culture in the Centre.

Director of the Boys Training Centre Ms. Criselda Branford reminded the staff that the programme which is a spin off from the internationally recognised Virtues and Values Project will only be meaningful if it is integrated into daily life.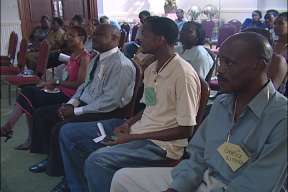 Staff of Boys Training Centre
"The work at the Boy's Training Centre is challenging and the question is asked what can be done to produce virtuous cultures. The answer not by me but by Charles W. Colson who says in his book Justice that restores quote not therapy but strong values unquote. The Virtues and Values project is not just to come and see but to learn and understand and to be practiced"

Lead Facilitator of the Values and Virtues Project Lynda Brooks said the project is a proven asset in reforming persons across all cultures, settings and countries particularly in schools and institutions.

"The right people are there working with the young men that we have at the Boy's Training Centre. And all we need sometimes is some help in recognizing what tools we have in our tool box. None of us could build a house if all we have is a hammer. And I thinking that the virtues project helps us to recognise that we have other tools and helps us practice using them and together we can build a culture of character at the boy's training centre."

The Virtues Project was founded in 1991 by three concerned persons, it aims to counteract rising violence among youth. The project provides a range of strategies which counsellors, parents, teachers and law enforcement personnel can apply to foster mentorship, interventions and prevention.