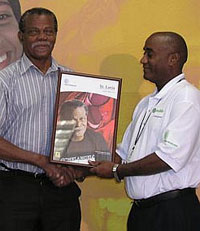 Honarable Dunstan St. Omer with Mr. Fred Walcott
Wednesday, January 12, 2004 - Cable & Wireless unveiled its 2004 / 05 Services Directory on Wednesday, featuring another of St. Lucia's internationally acclaimed artists.

The latest version of the Directory carries the picture of the Honourable Dunstan St. Omer, St. Lucia's foremost visual artist and the designer of the national flag. Mr. St. Omer is pictured on the cover with 'Passion,' a painting dedicated to his daughter, Digna. The painting is part of his 'Madonna' series.

There are hundreds of Dunstan St. Omer Madonnas, murals and landscapes in churches, homes, businesses and institutions throughout St. Lucia and the wider Caribbean. Now, as the 76-year-old father of nine proclaims, "for the next 12 months, my picture will be in households all over St. Lucia – it's a great honour." Mr. St. Omer unveiled the new Directory in the presence of Cable & Wireless Chief Executive Fred Walcott.

"For all of us at C&W, the unveiling of the 2004-05 Services Directory is a truly special occasion," says Mr. Walcott. "It gives us the opportunity to honour yet another outstanding and gifted St. Lucian who, in so many ways, has made us all proud to be St. Lucians. One of the things that makes Dunstan so special is that he is a living example of what it means to be a true home-grown genius."

St. Omer has also inspired generations of young St. Lucian artists. He worked in the Ministry of Education as an art instructor for over 30 years, and is still passionate about introducing young people to the arts. Having recently judged the Cable & Wireless Schools Greeting Card Schools' Competition, he is now championing the revival of the Independence Arts Exhibition.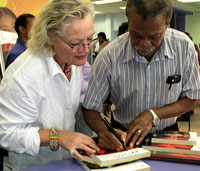 Dunston signs a phone book for a fan
A 2004 recipient of the St. Lucia Cross, the nation's highest award, St. Omer has now been conferred what is perhaps the most public honour any St. Lucian can hope to attain locally. When he accepted the St. Lucia Cross, Honourable Dunstan St. Omer delivered a brief speech. One phrase in particular is applicable to Cable & Wireless' choice for its Directory cover: "It means my people appreciate what I have been trying to do."

Honourable Dunstan St. Omer is the fourth consecutive distinguished St. Lucian to be featured on the Cable & Wireless Directory. Musician Ronald "Boo" Hinkson was on the cover of the 2003-04 edition. He was preceded in 2002-03 by Nobel laureates Hon. Derek Walcott and Sir Arthur Lewis.