Contact: Chris Satney
Monday, August 08, 2005 - The Ministry of Communications Works, Transport and Public Utilities is confident in its resolve to reopen two main entrances to the city before the end of August. The ongoing works are part of a major project to control flooding within the city of Castries. The construction work has caused the closure of mainly the Calvary route into the city, Jn. Baptiste Street - situated in front the Castries Car Park and the carriage-way between the Castries Market and the Vendors Arcade.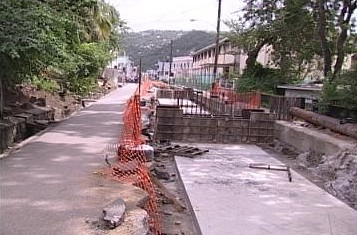 The closure has caused some discomfort to the motoring public, but officials of the Ministry say it was never their intention to close off both accesses at the same time. Monitoring Engineer with the Special Projects Unit of the Ministry Chamberlain Emmanuel says because of the delay of the Chausee Road drain-construction brought on by the awkward position of a WASCO pipeline at the location of the works that project could not have been completed on schedule for the start of this second project.
"We did not want to have any intersection close when school reopens and with lesser traffic in the off school period we thought it prudent to take on the project, close the junction and complete the section of works before the reopening of school," Emmanuel said.
Engineers thought it prudent to start the construction of the Jn Baptist drain at the mouth of the Bay. Though this has restricted traffic flow from the John Compton Highway into the city, engineers say it will make life easier for motorists when that section is completed.
At present workmen are pre-casting slabs that will be used to cover the drain when it is completed. Culverts that will run along both sides of the drain are also being precasted in order to lessen on the length of time the project would take.
The Ministry also wants to finish the entire flood mitigation project in good time before the start of roadworks on the Castries/Gros-Islet Highway. "We do understand and agree that the timing is not ideal but looking at the broader picture, we do have coming up in the New Year this Castries/Gros-Islet Highway project. If you know the Castries/Gros-Islet Highway you would know it has tremendous traffic and you cannot have the city tied up while engaged with such a project. So we are trying to get out of Castries before starting the Gros-Islet project," the Ministry official said.
As these projects continue, work progresses on a holding pond in the George the Fifth Park. The Pond is expected to deal with high volume of water during heavy periods of rain. There is still one phase to begin in the project and will involve the elevation of darling road. The Unit says this will eliminate the basin in that area that quickly collects water when it rains. The entire project is expected to end by January of next year.