Contact: Chris Satney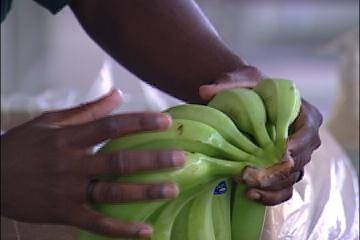 Wednesday, August 10, 2005 - Government is continuing its awareness campaign among farmers on recent developments in the world trade of bananas. This it sees as significant in ensuring farmers get the right information on the issue especially following the latest ruling of the WTO tribunal in favour of Latin American Banana producers, who opposed a new regime proposal of the EU.
Minister for Agriculture, Fisheries and Forestry Honourable Ignatius Jean says Government is not taking the present banana situation lightly. He says more than looking at trade in Europe government is working towards improving gains at the domestic and regional levels – but he says whatever the outcome in Brussels, the trade of bananas as we once new it, will never be the same.
"And it can have disastrous consequences for us but we cannot simply sit there and be idle and mourn about it, we have to find ways to go forward. This is what our government has been doing and trying to educate the farmers on the way forward and find way to continue doing business in agriculture not just bananas," Minister Jean said.
The minister reiterated that the difficulty presently facing the banana industry was not a product of bad governance but changes in global trade which had little regard for the issues facing developing countries like St. Lucia.
Prime Minister Honourable Dr. Kenny Anthony has also warned about playing politics with the banana issue. Dr. Anthony has said to blame Government for the woes of the industry would be to blame it for the difficulty facing banana industries of African, Pacific as well as European Caribbean states.
"It is pointless for some individuals in our society to create hope where there is none. We have to search for new economic opportunities. Yes there are some hard cold realities we have to face – not just with respect to bananas but sugar as well, because the EU is now seeking to change the sugar regime and we know already it has one fatality – St. Kitts," Dr. Anthony said.
The World Trade Organisation ruled on the 1st of August 2005 that a new EU tariff on imported bananas was illegal. A WTO arbitration body backed a claim by Latin American countries - including Brazil, Colombia and Venezuela - who said the proposed EU tariff of 230 euros per tonne would have a "devastating effect" on the development of their economies and would seriously limit their ability to export the fruit.
The EU had hoped the new regime, which was conceptualized after its previous system of tariffs and quotas had also been ruled illegal, would strike a balance between the demands of large-scale growers in Latin America and interests of traditional suppliers in Africa and the Caribbean.