Contact: Chris Satney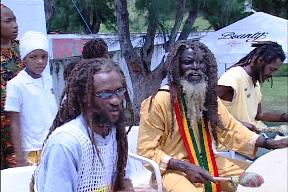 Members of the Rastafarian Movement in Saint Lucia
Thursday, August 11, 2005 - The Ministry of Social Transformation has thrown its support behind the establishment of a Rastafarian Foundation on the island. The Empress Menem Foundation based in London is designed to improve the quality of life of Rastafarians worldwide.
A small group of members including the foundation's Director and founder Escalis Selassie has been here working towards the formulation of the St. Lucian chapter. The group is also engaged in research on the Rastafarian movement on the island and this has captured the attention of the Ministry of Social Transformation as no specific study on the Rastafarian society has ever been undertaken in St. Lucia. The Foundation has expressed it's satisfaction with the kind of support it has received from the Ministry.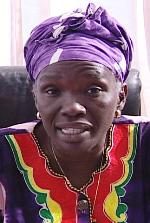 Empress Escalis Selassie
"We're trying to establish the foundation in St. Lucia as a non-profit organization and as a woman's organization and family education organization. So therefore, I think, there is quite a few of the Minister's remits that have come into that and she has given us some very good introductions and sought us linked us to some very key people, who we are hoping to meet before we leave St. Lucia and of course we are going to be establishing a very strong foundation here," Selassie said.
The Empress Menem Foundation is particularly interested in aligning itself with local women's organizations, specifically as its operations are being managed by women. The organization is also conducting research among the elders of the movement in St. Lucia.
"In St. Lucia we found the elders are actually younger than the elders in Jamaica where we have conducted this research, and the elders there go up to 95 years old. In St. Lucia we found the elders to be mostly between 50 and 65 years of age. There is one or two that are a little older and we will bring that information to the minister when we complete our findings, she said.
The organization, like in other territories, is also working towards the production of calendar highlighting the various elders of the movement on the island.