Contact: Chris Satney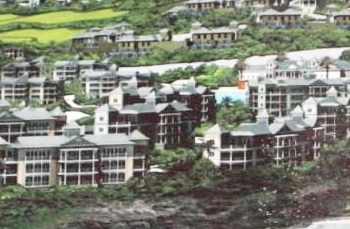 Artist impression of the Hotel
Wednesday, August 10, 2005 - The developers of the Le Paradis Hotel have promised to maintain the natural environment of its proposed location along the Praslin coast in Dennery.
It is one of several terms agreed to by Design Construction Group Properties Limited, DCG when it acquired the property for the hotel's construction. At a ground breaking ceremony held on the 4th of August 2005, Prime Minister Honourable Dr. Kenny Anthony underscored the importance for the present environment of the Praslin bay location to be preserved.
"This area is pristine territory. It is charming, it is inviting and it is beautiful. This development must be constructed in a way that appreciates all the nuances of the property, all the sensitivities. We want it to blend with this country. Never forget it is the charm of this country that is the first attraction. When people come to our country and they look at our little island, true they feel the warmth and generosity of our people but they are fascinated with our inheritance, so you've got to look after this place," Dr. Anthony said to the developers.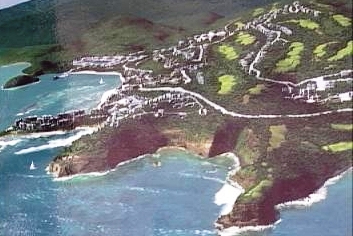 Aerial view of the Praslin Bay
The hotel will be built on 554 acres of land which was bought from the Denehey family. Managing Director Visionary of the Le Paradis Hotel Kieran Dolby says protecting the natural environment of the location will not only challenge the Le Paradis hotel to blend-in but will also add to its enhancement.
"We believe with the designs that we have, we will truly make Praslin spectacular. We will try and integrate our architectural designs with that that is already there. We will try to keep it rusty and will not be a carbuncle on the landscape. We want to keep this very much in the flavour of what we have at the moment," said Dolby.
The first phase which is called the multi phase has been estimated at 130 million US dollars. However the entire project could well cost over three-quarters of a billion US dollars. Phase one will include among other things a five- star internationally branded hotel with 18 thousand square feet of conferencing facilities health spa, and golf course which developers believe will be one of the most magnificent in the world.