Contact: Chris Satney
Monday, August 29, 2005 - An Eye Health Disabilities programme is currently being fine-tuned for launch on the island. Ministry of Health officials say the initiative will be unveiled once a Cuban Eye Care programme, currently underway, is completed.
The Ministry of Health collaborated with a number of non-governmental organisations including the National Council of and for Persons with Disabilities and the St. Lucia Blind Welfare Association to formulate the programme.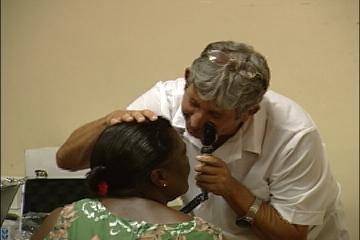 Cuban specialist examining eye patient
Geared towards the 20/20 vision of avoidable blindness, the Eye Health Disabilities Programme will help train nurses in ophthalmic surgery. Government has already identified an ophthalmologist who will be on island on a two year contract, to supervise the project.
Minister for Health, Human Services, Family Affairs and Gender Relations Honourable Damian Greaves says the current Cuban Eye Care Initiative will deal with a back log of cases that will give the new programme a clean slate to work from.
"We have had a situation and response analysis of it and just as well looked at childhood blindness. We are now going to look at the current response of the programme - where we are going to look at the communities and the schools and the training of nurses in low vision assessment, the opening of clinics every week to the general public - all of those things," Minister Greaves said.
The St. Lucia Blind Welfare Association along with the Caribbean Council for the Blind are of the view that the needs of persons with vision impairment should not rest on the shoulders of specialized agencies but on the entire society.
"The move is towards inclusion, inclusive services, and this is where you find that the strategic planning initiative being taken by the Ministry of Health has recognized that move and has established twelve essential health care priority areas and eye health is linked with the component called Eye Health and disabilities," the Association's Executive Director Anthony Avril said.
Meanwhile the Cuban Eye Care Programme will continue this week with a clinic today at the VBCC Club at La Clery, followed by two sessions to be held at the National Cultural Centre on Wednesday and Thursday. Another session will be held at the Human Resource Development Centre at Entrepot on Friday.