Contact: Primus Hutchinson

Wednesday, September 24, 2003 - After an extended lapse the National Youth Awards sprang back into action over the weekend, when the Ministry of Education, Human Resource, Youth and Sports and the Saint Lucia National Youth Council presented the 2003 National Youth Award ceremony at the National Cultural Centre, Friday.

Scores of young people representing various clubs and Organisations Island wide converged at the Cultural Centre to be honoured for the outstanding contributions to youth development.
Permanent Secretary in the Ministry of Youth and Sports, Henry Mangal says, that while many of those who would honoured may not be known beyond their club or community, however their contributions bears national significance.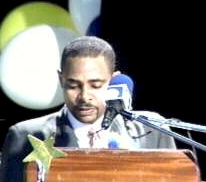 Henry Mangal, Permanent Secretary in the Ministry of Youth and Sports
" By promoting and practicing positive values, these young persons contribute to the social stability and hence to the economic prosperity of our beloved country. To sustain this though, more young persons must emulate the nominees and awardees and that is why the National Youth Awards must be held so as to properly reward positive behaviour pattern." Mangal said.

While lamenting the many factors contributing to the underdevelopment of the youth, such as drugs and alcohol and delinquency, manifesting in serious criminal activity, Minister for Education, Human Resource Development, Youth and Sports, Honourable Mario Michel lauded the magnificent strides of many other young persons who were able to rise above the many uncertain global tides and the internal factors that impedes youth progress.

A number of young persons were nominated and awarded in various disciplines, such as Youth and Business, Youth in Youth Work, Youth in Community Development, Youth in Arts and Culture, Youth in Religion.

The most outstanding District Youth and Sports Council award went to the Patience/Mon Repos Youth Organisations .

The award for the most outstanding youth for the year, went to Twain Kim Edward, Public Relations Officer for the Country Strikers Youth and Sports Club and member of the Banse La Grace Development Committee.