Contact: Rose Marie Harris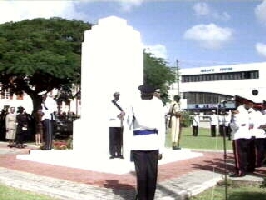 Remembrance Day ceremony at the Cenotaph
Thursday, October 30, 2003 - As another Veterans Week approaches, Saint Lucians are being encouraged to pause to remember and to think of the lessons that past conflicts have taught the nation – mainly that people should appreciate the blessings of freedom.

Patron of the Saint Lucia Branch of the Royal Commonwealth Ex-Service League, Governor General Her Excellency Dame Pearlette Louisy, has called on persons to recognise the power and virtue of sacrifice.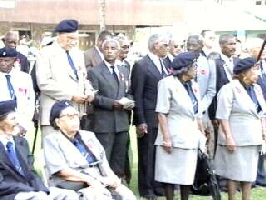 Members of the Saint Lucia Ex-Services League
"The yearly observance should serve as a constant reminder of the high cost of freedom and the price that the generation that went before us had to pay for the promise of a peaceful world. It is easy for those of us who have spent almost all our lives in peace times, to make little of the efforts and sacrifice of those who died in the service of our country as we knew it then, or even to understand why they answered the call to serve. Peace has lulled us into complacency and we are gradually losing our sense of commitment to the ideals of freedom, unity, love of country and humanity, sense of honour and duty and dedication to the principles by which we should live."

Dame Pearlette called upon the young people of the nation, to reflect on those who died. According to the Governor General, many of the persons who fought in the two world wars were young people, who believed strongly enough in the cause to fight for it, even if it meant dying for it. "Should we carelessly squander that freedom for which they fought, it would most likely be you, the youth of our country and of our times, who will have to answer that call again," Dame Pearlette said.