Contact: Ayodele Hippolyte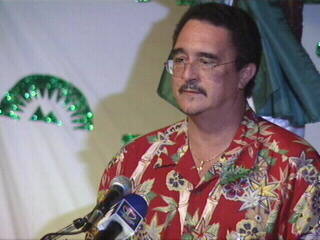 Prime Minister Hon.
Dr. Kenny Anthony
addressing Ladera's
staff awards
Wednesday, September 10, 2003 – Workers in the tourism industry are far more than mere employees, they represent the character and values of the St. Lucian society. This was the sentiment expressed by Prime Minister the Honourable Dr. Kenny Anthony at the Ladera Resort's fourth annual staff awards and appreciation ceremony held on Monday evening September 8, 2003. The Honourable Prime Minister was the guest speaker at the event which honoured approximately fifty staff members.

Dr. Anthony said "as hospitality workers…to every visitor with whom you interact, you are the embodiment of all that is St. Lucian. Each of you epitomises our values of humility, sincerity, service, industriousness, concern, courtesy, respect and most of all, treating another human being as if he or she is worthy of all these things."

Dr. Anthony also highlighted the fact that according to the island's Economic and Social Review of 2002, the tourism sector had contributed 12.5 % to the country's earnings, the largest contribution by any sector. Therefore, hospitality workers played a paramount role in the economic performance and development of the island. He urged the Ladera Resort staff to contemplate on their own worth and incalculable contribution to not only the industry but to the society as a whole.

Officials of the St. Lucia Tourist Board (SLTB) and the St. Lucia Hotel and Tourism Association (SLHTA) also attended the event. There was a wide array of awards including that for ten years of service, the Most Improved Employee and the Young Chef of the Year which was a new award this year.

The Ladera Resort is located in Soufriere and is the first hotel in St. Lucia and the Organisation of the Eastern Caribbean States (OECS) to become Green Globe Certified which means that the resort's operations are based on sound environmentally friendly practices.