Contact: John Emmanuel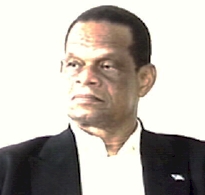 Senator Honourable Julian Hunte
Tuesday, June 17, 2003 - Newly elected President of the 58th Session of the United Nations General Assembly St. Lucia's Foreign Affairs, International Trade and Civil Aviation Minister Senator Honourable Julian Hunte, has pledged to place developmental issues back on the front burner of the over fifty year old organization.

Minister Hunte, who returned home on Sunday, June 15, 2003 after having delivered his acceptance speech at the UN Headquarters in Washington, USA expressed gratitude at assuming the prestigious position, which has made St. Lucia the second CARICOM country to be elected to the Presidency. The first was Guyana in 1993.

Minister Hunte told reporters who met at the George Charles Airport in Castries along with Foreign Ministry staffers led by Permanent Secretary Cosmos Richardson, that the one-year task of managing the affairs of the august body come at a very difficult time in its history, following the events of 911, the Iraqi war and escalating tension in the Middle East. "We have made it very clear that as a Small Island Developing State our programme is going to focus on development," he said.

He went on, "In fact development is what the UN is supposed to be about but in the last couple of years the ascent has shifted because of again 911 and Iraq for example. All of the countries that I have spoken to, be them small, medium or large, have all agreed that we are on the right track to put development back on the agenda because that is what we are all about."

The Foreign Minister, who at one time served as St. Lucia's Ambassador to the UN is of the view that the region stands to move forward in a meaningful way if several programmes designed to influence its development, socially, and economically be revisited and reinstituted. Among them matters relating to trade, the adverse effects of globalization on small economies, financing for development and HIV/AIDS that has gripped the African continent and countries of the Caribbean.

As president of the 58th Session of the General Assembly however, Minister Hunte remarked that he could not lose sight of the global picture and would have to devote significant attention to other pressing issues, like peace and security, the plague of terrorism, and the need for overall reform of the over fifty year old United Nations.

Although assuming the full time position Minister Hunte said for the moment he will continue to function in his current government position pending further talks with Prime Minister Honourable Kenny Anthony and Cabinet colleagues.