Contact: Rose Marie Harris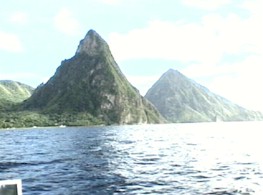 The majestic pitons rising from the sea
Tuesday, July 01, 2003 - The designation of the island's pitons as a World Heritage Site can result in increased publicity for the island. Speaking with the local media Tuesday July 1, 2003, Cabinet Secretary Dr. James Fletcher explained the designation of the pitons can be used as a very significant marketing tool. "And that really says a lot about the country, its heritage. It is also a very significant marketing tool for the country in that for example the Ministry of Tourism and our tourist board having now had the opportunity to say that Saint Lucia has a site such as the pitons which is a world heritage site can use that as part of its marketing tool."

According to Dr. Fletcher "now the pitons are really a land mark of Saint Lucia but we are not able to say that the pitons are world heritage site. We now have the very visible physical landmark of the pitons coupled with the fact that these pitons are now designated World Heritage site and it really increase the appeal of Saint Lucia to many persons particularly persons who are very keen on visiting such sites, who are very keen on environmental issues so it really is a tremendous significance to the government and people but even more so the people of Saint Lucia for the designation of the pitons as a world heritage site."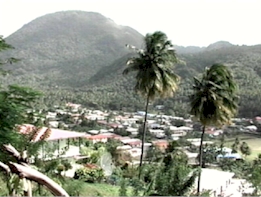 The town of Soufriere
The Piton Management Area will be declared an environmental protection area under section thirty four two of the Physical Planning and Development Act number twenty nine of 2001.

The Cabinet of Ministers have agreed to establish a Piton Management Area Advisory Committee whose responsibilities are to review all development, building and structural plans for the area and make recommendations to the Head of the Physical Planning department.

The Advisory Committee will also develop and implement a research and monitoring programme . It is the responsibility of the Committee to consult with stakeholders in the process of making development and management decisions for the area as well as to undertake a programme of public education and to prepare an annual report on the management of the site for presentation to the Cabinet of Ministers.